Hillcrest's energy advice team become cartoon heroes
The energy advice team at Hillcrest have found themselves doing battle with more than just fuel poverty – they've also been fending off the icy antics of their arch-nemesis Coldemorte, who is out to bring cold to the world.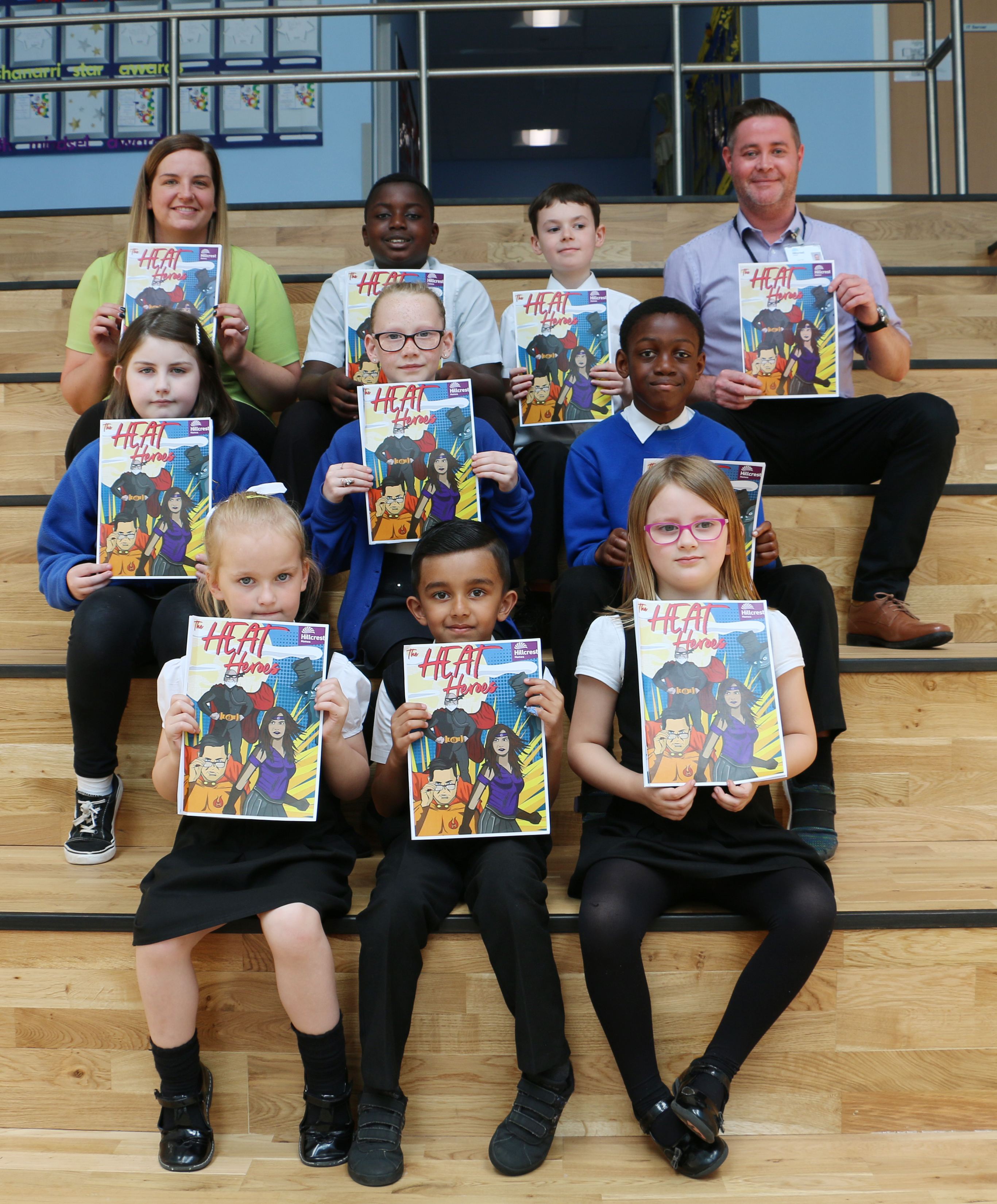 While fuel poverty is very much real, fortunately Coldemorte is only a cartoon villain, who along with cartoon superhero versions of the energy advice team, has been immortalised in a brand new energy advice activity book for children.
Launched this week, the innovative book which has been illustrated in pop-art style, offers a range of fun puzzles focused around saving energy, presented in a colourful cartoon format and fronted by the three HEAT (Hillcrest's Energy Advice Team) Heroes.
Aimed at making the idea of saving energy fun, children are encouraged to help the HEAT beat Coldemorte and his repeated icy attempts at mischief. As well as various themed puzzles, children can read simple facts about saving energy and challenge themselves with putting these into practise. There is even a quiz so they can test their own superhero energy-saving skills.
The activity book was also boosted with a seal of approval before its launch by pupils at the new Our Lady's RC Primary School, on Dundee's Alexander Street.
The special preview and feedback session was held in June and was attended by real life HEAT heroes Euan Hird and Gemma Macgregor. The group of children, ranging from primary 1-7 had the opportunity to be the first to get stuck into the puzzles and give their thoughts. Fortunately for the HEAT heroes, the kids gave the book a big thumbs up!
Joy Watson, tenant service manager at Hillcrest, said: "For many households, fuel bills can pose a huge hurdle in living comfortably and in some extreme cases we've encountered families who must choose between heating or eating.
"Saving money on fuel bills is something that the whole family can help with, so we came up with the idea of the puzzle book to give children an innovative and fun way of finding out more about saving energy, which helps the adults in their house save money.
"We're absolutely delighted with the book – it's not every day our energy advisers get to battle with an icy supervillain!"
The book is available from Hillcrest's energy advisers during their visits, and can also be picked up at Hillcrest's South Ward Road office in Dundee.