Hillcrest work experience paves career pathways for Dundee pupils
Two Dundee school pupils have cast their gaze firmly on their future careers, completing eight-week work experience programmes with the Hillcrest Group.
Declan Coughlin from Harris Academy and Graeme Cosgrove from Craigie High School – both fifth year pupils – got hands-on in their chosen areas of the company supported throughout by Hillcrest mentors.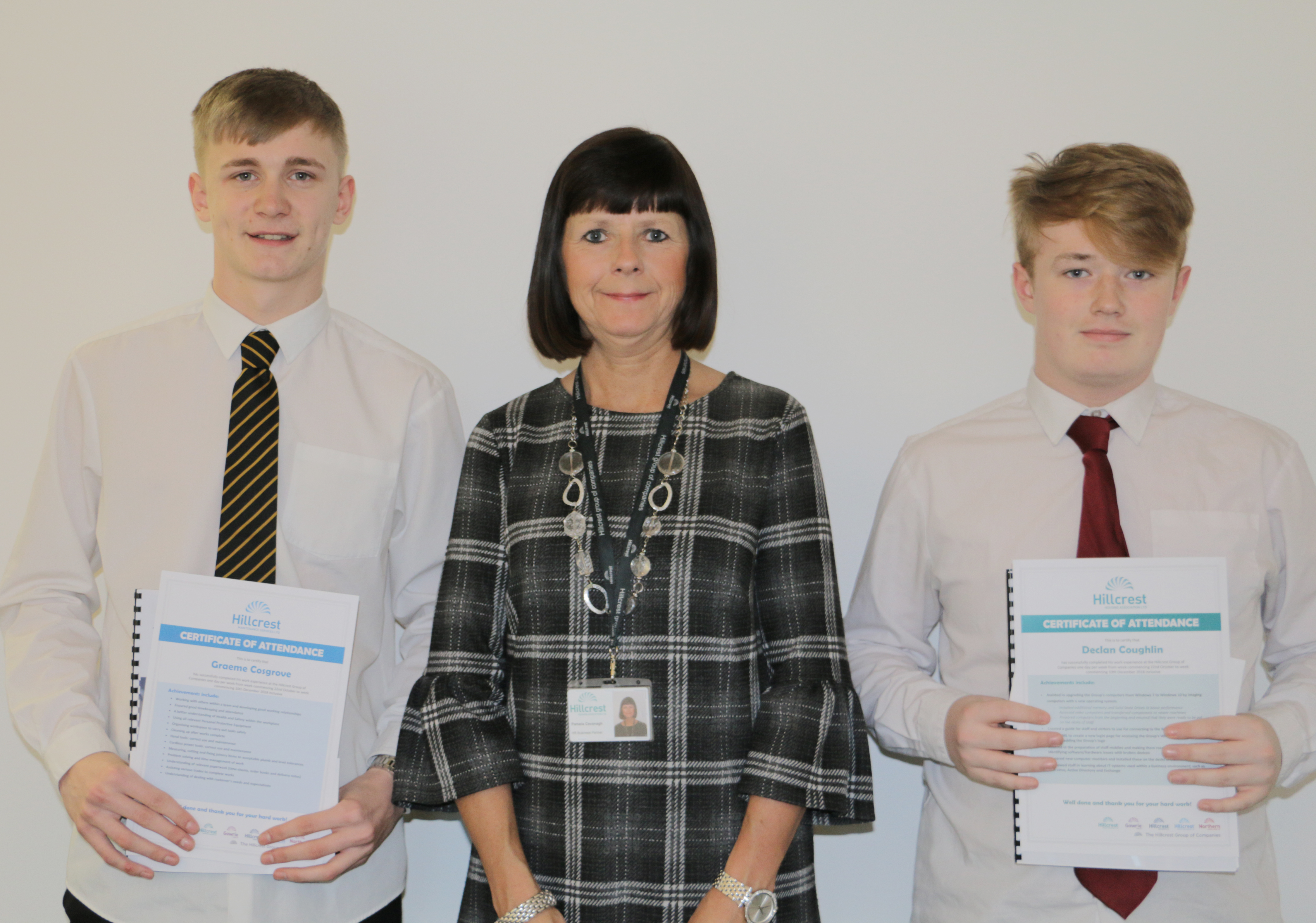 Declan's placement saw him join the fast-paced IT department, which provides and manages the IT, communications and tech across Hillcrest's group of companies. Supported by IT service desk team leader Jamie Sharp, Declan got stuck into wide range of tasks over the eight weeks including upgrading staff computers, creating user guides and basic coding.
Other achievements that Declan was proud to accomplish included working with business information systems such as databases and CRM software, and successfully working within a team boasting a variety of specialisations.
Graeme's eight-week placement saw him working with Hillcrest Maintenance Service's joinery team, supported by operations manager Gavin Scott and maintenance operative Phil Dunlop. This position provided Graeme fantastic insight and experience within the joinery trade, as the team undertook a considerable programme of kitchen replacements.
Throughout the eight weeks, Graeme too built up a list of achievements. These included working as an effective team, the correct use of personal protective equipment (PPE), building an understanding of health and safety in the workplace, and correct use of hand and power tools. In addition, and showing outstanding dedication to learning, Graeme even chose to attend an extra day to build up as much experience as possible.
Both pupils were presented with certificate to mark the successful completion of their placements.
Hillcrest CEO Angela Linton, who presented the certificates, said: "As a not-for-profit organisation, Hillcrest has always been dedicated to giving something back, so we were delighted to be able to offer Declan and Graeme these opportunities as they look towards potential future careers."
Jamie Sharp, who supported Declan throughout his placement with Hillcrest's IT department, said: "Declan was given a variety of tasks to carry out, which he completed to a very high standard. He also worked well under minimal supervision when necessary, and it is clear he has a real passion for this area of work – often asking questions and seeking to understand the processes and systems."
Graeme's mentor, Phil Dunlop of Hillcrest Maintenance Service, said: "From day one, Graeme has fitted in well. He is a bright and confident young man with a passion to learn, and is not afraid of hard work. The team would certainly have him back working with them if possible."
Graeme added: "This placement has encouraged me to go into every task open and willing to learn, and show excellence in everything. I have known I want to be a joiner for the past two years, and this placement has further cemented my career choice, as I have extremely enjoyed the work."