Homes for Scotland 2020 Awards: Innovation of the Year shortlist
Homes for Scotland has announced there will be no winners of its 2020 Awards this year, but all shortlisted candidates will be revealed to recognise the efforts of successful submissions, kicking off with the Innovation of the Year award.
Having closed to entries in February, the independent judging panel was able to meet just before lockdown to agree the shortlist across the five categories of:
Innovation of the Year
Associate Member of the Year
Development of the Year - large
Development of the Year - medium
Development of the Year - small
A category shortlist will be unveiled each day. The shortlisted candidates for the Innovation of the Year award are as follows: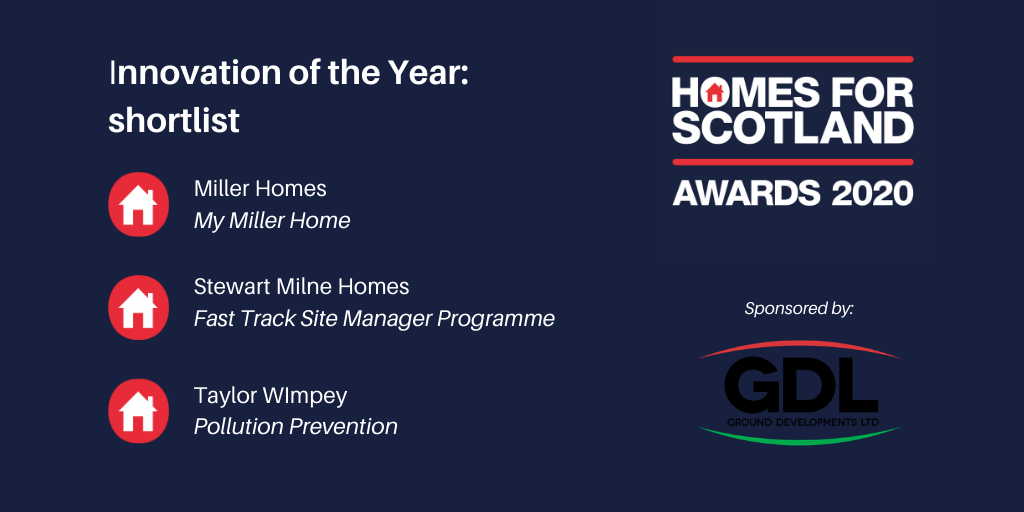 Homes for Scotland told Scottish Housing News: "Due to lockdown, we have obviously been unable to proceed with the usual further round of site visits and interviews which were due to culminate in the winners being announced at our Annual Lunch which was planned for 29 May. To avoid compromising the reputation and integrity of the awards which has been so carefully built up over the last two decades, we took the difficult decision to cancel both the awards and the event this year.
"We nonetheless wish to recognise the hard work of members in pulling their entries together along with the effort of the judges. So, as workers have returned to site and sales offices and show homes have reopened, we are delighted to now be in a position to announce those who made it to the finalist stage, enabling those companies recognised to promote themselves as such."
Individual films produced to support each shortlisted entry as well as an introductory message from chief executive Nicola Barclay are all available at twitter.com/H_F_S.