Housebuilding and infrastructure expected to drive Scottish construction growth
An uplift in housebuilding and infrastructure spending is expected to boost Scottish construction activity during 2020 after a quieter end to 2019 saw workloads flatten in Q4, according to surveyors.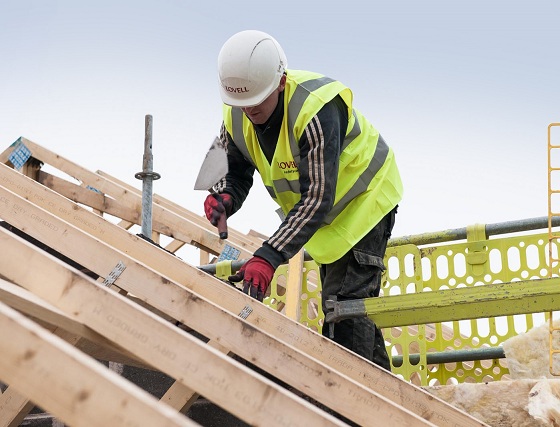 A net balance of +37% of Scottish respondents to the latest UK Construction and Infrastructure Market Survey from the Royal Institution of Chartered Surveyors (RICS) now expects workloads to be higher in a year's time, with public and private housing and infrastructure seen as the areas where activity will increase.
A net balance of +25% of Scottish respondents, for instance, expects private housebuilding to increase in the 12 months ahead, one of the strongest rates in the UK.
This follows on from a slowdown in overall workloads at the end of last year, when a net balance of just +3% of respondents reported that workloads were rising in Q4. This was below the UK average of +12%.
Respondents cited factors including uncertainty over the next stages of Brexit as impacting on workloads.
Skills shortages also appear to continue to be a considerable challenge for the industry. 61% of respondents in Scotland say that they are experiencing a shortage of quantity surveyors, whilst 53% point to a shortage of other construction professionals. Both figures are above the UK average.
Whilst Scottish surveyors expect overall workloads to rise this year, they are less upbeat than their counterparts elsewhere in the UK, other than Northern Ireland, when it comes to employment expectations and profit margins. A bet balance of +16% of Scottish respondents expects employment levels to be higher in 12-months' time, which is half the UK average, while a net balance of +13% of Scottish respondents expects profit margins to increase over the years compared to +21% for the UK as a whole.
Stewart Kellock MRICS of Interserve in Glasgow said: "Brexit delays have affected certainty and confidence in the construction industry, and we may be in this state for another 6-12 months."
Commenting on the UK market, Jeffrey Matsu, RICS chief economist, said: "The General Election result last month provided a welcome relief to market confidence with the anticipation of additional fiscal spending to be announced at Spring Budget pushing year-ahead workload expectations higher. That said, the yet-to-be-known relationship with the EU has kept the economic outlook fragile which is affecting businesses intentions to invest."