Housing developer builds green offering with £3m funding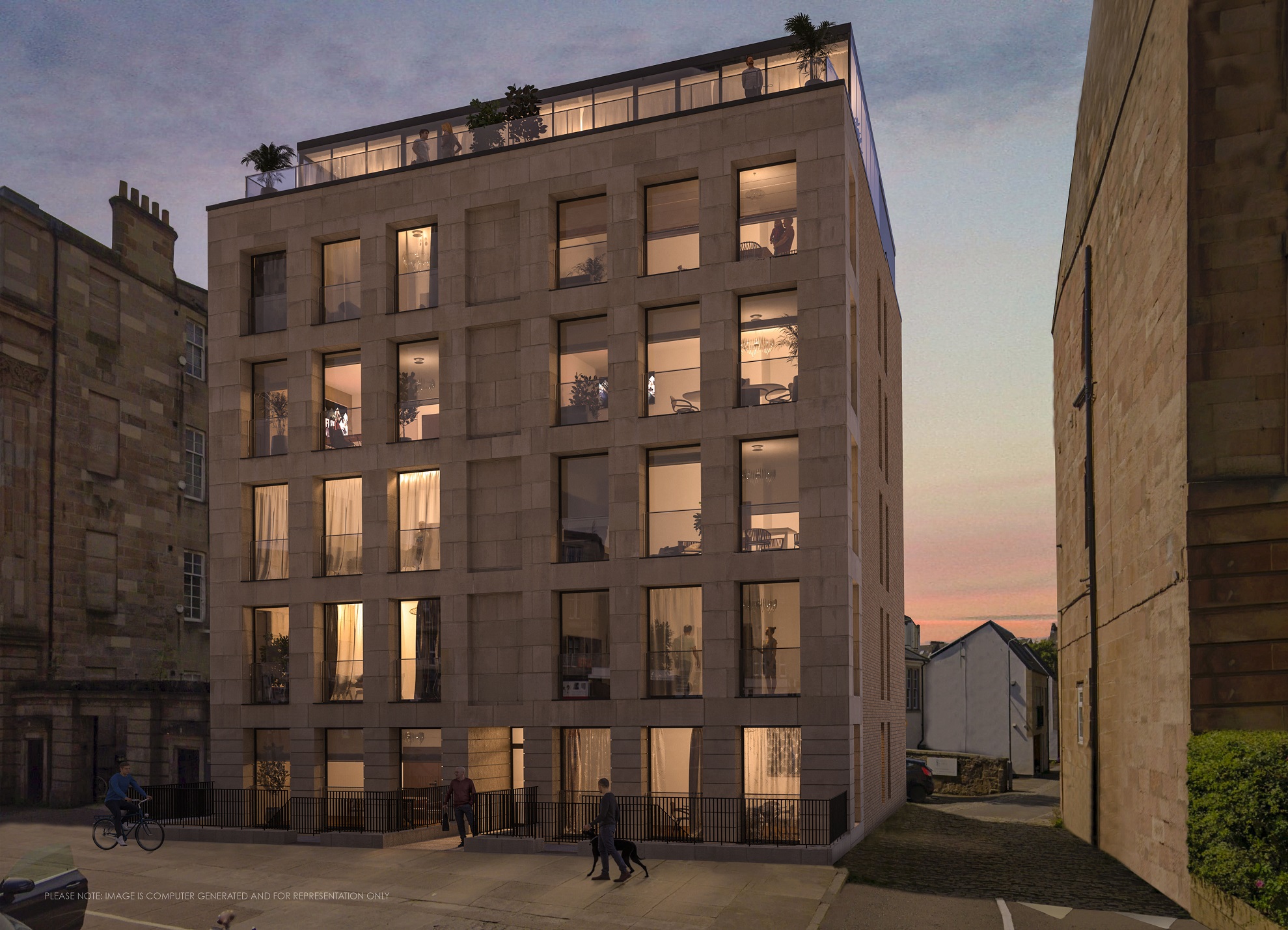 A Glasgow-based housing developer is expanding its portfolio of sustainable apartments in a bid to grow its green-energy offering, thanks to support from Bank of Scotland.
Carmichael Homes has been operating across central Scotland since 2012 and delivers luxurious but affordable homes. To date, it has completed 100+ homes across the central belt with work commencing on a further 4 developments in 2023.
The business has recently started the construction of its latest development in Glasgow, with ten apartments made up of 6 x 2 bedrooms and 4 x 4 bedroom duplex apartments. To support the North Claremont Street development, the business secured a £3 million funding package via Bank of Scotland's Clean Growth Finance Initiative (CGFI), which provides discounted lending to help firms invest in sustainable projects.
The funding will support the introduction of energy-efficient technology. The building will have PV solar panels as well as a mechanical ventilation and heat recovery (MVHR) system, which will provide the flats with fresh filtered air while retaining much of the energy that has been used to heat the building. Apartments will also be fitted with high-performance double glazing and external wall insulation to prevent heat loss. All apartments will achieve A-rated energy performance certificates (EPC).
While sustainability is a significant factor in the building of developments, Carmichael Homes also prides itself on interior finishes meaning the new apartments will be fitted with high-end designer kitchens and bathrooms.
In 2021, Carmichael Homes secured a seven-figure funding package from Bank of Scotland which helped fund the construction of a sustainable 25-flat development on Lanark Road in Edinburgh which are currently for sale via Savills.
The business plans to continue growing and has hired a land manager, David Thorburn, to facilitate this growth. Fresh land opportunities are sought with a flexible approach to land adopted – land requirements can be found on the Carmichaels Homes website.
Scott Carmichael, managing director of Carmichael Homes, said: "Bank of Scotland has been instrumental in our transition towards green-energy initiatives, supporting us since 2016.
"Energy-efficient housing is an important part of Scotland's net-zero journey, with new regulations requiring all residential properties to be at least EPC C by 2033*. Bank of Scotland made us look more seriously at how we provide high-end, sustainable developments while maintaining affordable pricing.
"Sustainable living will only increase in demand as homeowners look to reduce emissions while trying to mitigate the burden of rising energy prices."
Grahame Andrew, relationship director at Bank of Scotland, said: "Carmichael Homes is a brilliant example of a Scottish business that is building a reputation for high-end and sustainable homes. As the business focuses on the future, its blend of luxurious housing and green-energy offerings will make a positive impact in delivering much-needed sustainable housing for Scotland.
"At Bank of Scotland, we're proud to be by the side of businesses like Carmichael Homes, who are committed to reducing their environmental impact. We're looking forward to continuing to support the business as it grows its sustainable offering."