Housing First provision primed for successful expansion across Scotland, report finds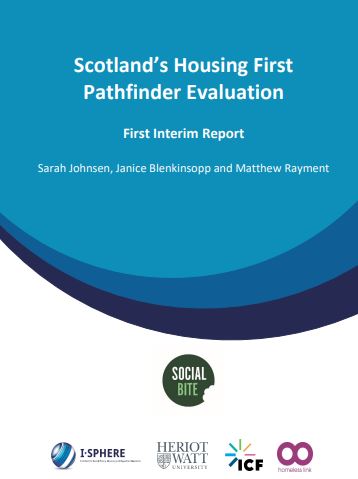 The Housing First Pathfinder has been highly effective at supporting people with the sharpest experiences of homelessness to stay in their homes, according to the country's first evaluation of Housing First, published this week by I-SPHERE at Heriot-Watt University.
The independent Interim Report commissioned by Corra Foundation with funding from Social Bite uses a combination of data analysis and first-hand testimony from tenants, support providers, local authorities and national stakeholders to present the findings in a 90-page report.
According to the findings, at the end of June 2021, by which time 531 people had been housed, the Pathfinder had achieved an overall 12-month 'tenancy sustainment rate' of 84% and 24-month rate of 82%.
Professor Sarah Johnsen from I-SPHERE, who co-authored the report with Dr Janice Blenkinsopp also from I-SPHERE in partnership with Matthew Rayment of ICF Consulting, said: "These figures are commensurate with tenancy sustainment rates reported internationally. The experiences of Pathfinder tenants were extremely positive on balance. Some described the effects on their lives as 'transformational'. They explained that the relationality, stickability, flexibility and longevity of Housing First support set it apart from other services.
"The housing retention rates achieved by the Pathfinder to date are particularly impressive given the additional challenges that the COVID-19 pandemic has presented. Many lessons have been learned regarding what helps and hinders Housing First delivery and these will be invaluable as Pathfinder services are mainstreamed and the approach is rolled out more widely across Scotland."
Maggie Brunjes, chief executive of Homeless Network Scotland, programme managers for the Housing First Pathfinder, said: "Scotland's Housing First Pathfinder has been the shining light in the homelessness sector for over two years, achieving results in line with international best practice and half of that time during a pandemic.
"It's not been easy, and many lessons have been learned, but this interim evaluation demonstrates that Housing First works, and it works thanks to the tenacity of Housing First support workers, political commitment at national and local level, buy in from key housing associations — along with the opportunities created to connect and learn together. And it works because people themselves took a chance on Housing First to end their own experience of homelessness.
"As we head into the final six-months of the pathfinder almost all parts of Scotland are starting up or scaling up Housing First. The Pathfinder has demonstrated that the approach is resilient and sustainable even under the most demanding circumstances, and this is a hugely important legacy. Our thanks to Professor Johnsen and colleagues for producing this detailed, insightful and much anticipated report."
The report documents a number of factors that have meant Housing First was able to get up and running quickly in Scotland including, for example, strong political commitment at national and local levels, a high level of buy-in from key housing providers and availability of training. It also identifies challenges including supply of suitable housing in some parts of Scotland, difficulties with recruitment of staff and the need for systems change to provide the conditions for the model to succeed.
This report is the first part of an ongoing evaluation and monitoring programme being undertaken by I-SPHERE at Heriot Watt University. Future evaluation outputs will document learning during later stages of Pathfinder delivery, including during the 2021/2022 transition period when Pathfinder services are being mainstreamed in those local authority areas.