Jonathan Giddings-Reid named new regeneration officer at Elderpark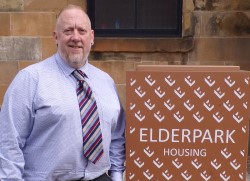 Elderpark Housing has appointed Jonathan Giddings-Reid as its new community regeneration professional to lead its work in the community.
Welcoming Jonathan Giddings-Reid to Elderpark, the association's director of housing & customer service Aidan McGuinness, said the appointment would further strengthen the wider role activities to Elderpark.
He said: "We are delighted to have recruited Jonathan and undoubtedly he will bring considerable expertise to the role. Our new regeneration officer position will bring focus and commitment to what is an important aspect of Elderpark's work in the communities we serve."
Jonathan Giddings-Reid has over 30 years' experience working in social housing and has worked previously with a number of high-profile names within housing notably Shettleston Housing Association, Southside Housing Association – both in Glasgow - and Shire Housing Association in Ayrshire.
He described regeneration activities of housing associations and housing co-operatives as a "vital aspect" of their work.
Jonathan Giddings-Reid said: "The community cohesion which results from the regeneration activities of housing providers is one of the most admirable aspects of the housing association movement.
"Elderpark Housing has an enviable track record on community regeneration which improves and enhances so many tenants' lives. I'm delighted to have joined the team."