Kilted neighbour helps Dunedin Canmore staff clear snow
A neighbour in a kilt joined Dunedin Canmore staff in clearing away snow to make sure a tenant in Dunfermline could get her Covid jab.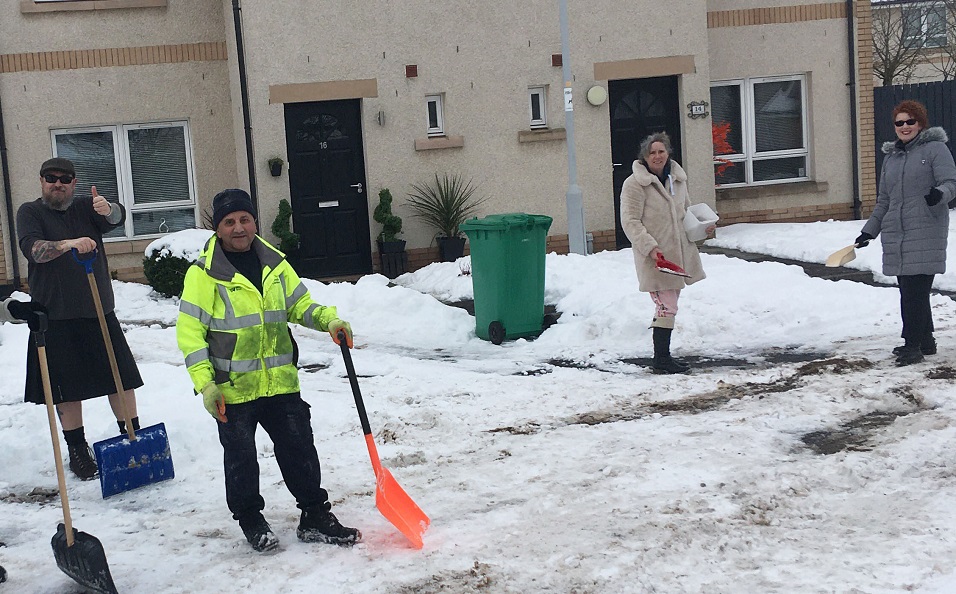 Dunedin Canmore's environmental team were busy clearing a path in Bleachfield Court last Friday for a woman who was worried she wouldn't be able to leave the house.
Intrepid neighbours then stepped up to help out – including Dunedin Canmore shared owner Alby Grainger in a kilt – and the woman got out for her vaccine that afternoon.
Alby, 52, who normally runs Little Shop of Heroes comic shop in Dunfermline, was at home at the time – and wasn't put off by the sub-zero temperatures.
He said: "We were only too happy to help the Dunedin Canmore guys. We knew one resident needed to get out for her Covid vaccine so I went out with my shovel and other neighbours joined me. It was very much a team effort."
He added: "I only ever wear a kilt – I don't even own any trousers. A kilt is my only attire!"
Neighbour Margaret Henderson, 56, said: "We were so glad to see the Dunedin Canmore guys turn up. They were brilliant. When they started working I got my coat on and went out to sprinkle salt.
"We're a close community here because we all know each other."
Alex Lamb, Dunedin Canmore head of housing, said: "It's great to see the community pull together to help each other out."