Kingdom Housing Association scores Kelty Hearts under 16s shirt sponsorship
Kingdom Housing Association's long track record of supporting local community groups and clubs has continued with the latest grant as part of its Community Benefits Programme.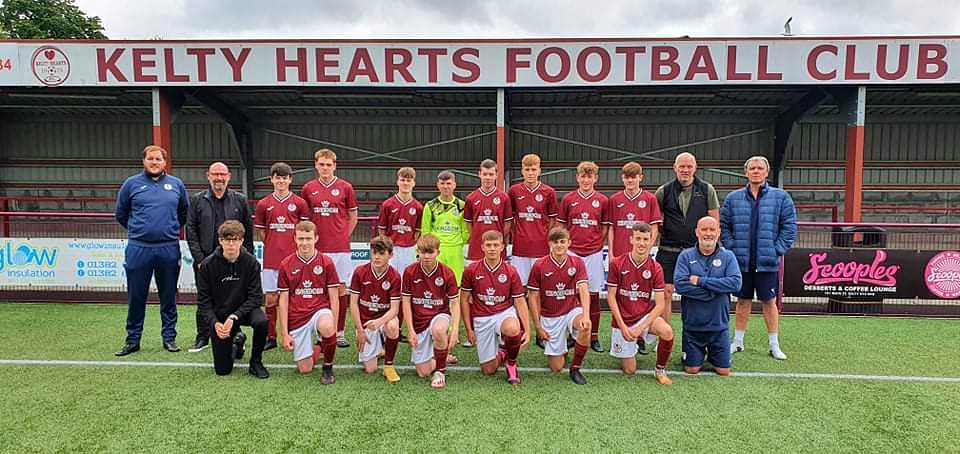 A donation from Kingdom's Community Initiatives Fund has sponsored the home strips for Kelty Hearts CC 2006's, a local football team for under 16s.
Bill Banks, group chief executive of Kingdom, went along to meet the team before their first competitive game of the 2021/22 season and said: "It has been very difficult for many local clubs to fundraise during the pandemic and we are delighted to be able to support the Kelty club.
"The donations we can provide may be relatively small however they mean a lot to local clubs and community groups and we feel helping to support local community clubs and projects is a good way to support the communities in the areas where we operate. It was good to see the team playing in the Kingdom strips and even better to see them win in their first competitive game of the season!"
The League Cup game against Bridge of Earn ended 1-1 at the full time whistle, with Kelty going on to win 4-2 on penalties.
Callum Edmonston, Kelty Hearts Community Club under 16's coach, thanked The Kingdom Group for their sponsorship for their new 2021/22 season home strips saying: "Community clubs and local clubs rely on funding and donations to help build up their club and Kelty are very grateful for generous sponsorship from The Kingdom Group."
Kingdom is committed to supporting projects that promote community togetherness and this is reflected in one of the association's strategic objectives which is to 'Provide added value through Community Initiatives'.
Calum Kippen, Kingdom's head of governance, who is responsible for administering the Community Initiatives Fund, said: "Through the policy we can consider supporting projects which deliver a community benefit in the areas where we operate. We are keen to promote and support appropriate causes which further our objectives and support our strategic objectives and will consider applications from a wide variety of sources including tenants, residents groups, community clubs and voluntary organisations.
"Any eligible applications can be submitted using the application form in our Community Initiatives Policy available on our website."
Other projects supported by Kingdom over the last year include support to local environmental initiatives, community arts projects, local sport clubs, community health and wellbeing projects and education initiatives.