Linthouse tenant celebrates 90th birthday
It was a blooming lovely surprise for Linthouse Housing Association tenant Ella Devoy when the Association dropped by to help celebrate her 90th birthday.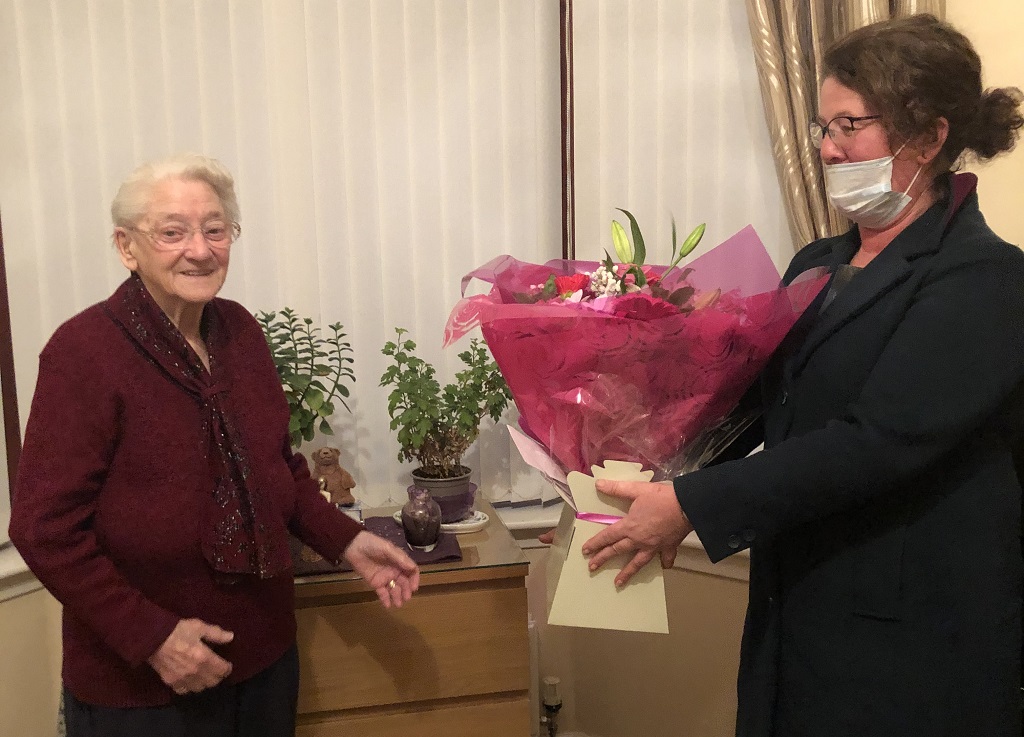 Linthouse decided to send a birthday bouquet which was hand-delivered at a social distance by chief executive Irene Campbell. Ella was very touched by the gesture and thanked the Association for its kindness.
Ella has a strong track record of community commitment to her beloved Govan where she has lived all her life. She served on Linthouse's management committee for 13 years, remains an active member of the association and is a long-standing member of the Linthouse Bowling Club.
Ella has had a wonderful life leaving school at 14 during the second world war, then trained as a tailoress. She then became manageress of greengrocers and then worked as a domestic at Elderpark Primary School.
Her love of sport began in her early 20s when was a member of Shotts women's football team as she was described as "small and fast" on the pitch.
She joined Linthouse Bowling Club in 1972 and played bowls with both nieces of local heroine of housing Mary Barbour who is now immortalised with a statue at Govan Cross.
Irene Campbell said: "It was pleasure to drop by with flowers for Ella to wish her many happy returns. She has given long and devoted service to the work of Linthouse Housing Association and after all, it is not every day you're 90 years old.
"We wish her continued good health and happiness and we look forward to meeting up again once the current health emergency is over."