Living Rent calls for end to housing insecurity in 2020/21 manifesto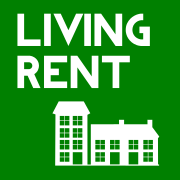 Living Rent has published its 2020/21 manifesto highlighting the shortage of housing in Scotland and has issued a call for an end to housing insecurity.
The tenants' union described a "precarious and uncertain environment" with social housing "sold off to buy to let landlords" and "vast swathes of it destroyed over the past few decades".
This coupled with rents which have "continued to skyrocket" in the social and private sector, whilst wages have stagnated or fallen in real terms, has forced many tenants into further housing insecurity, it added.
Living Rent said the manifesto for the 2021 Holyrood elections sets out how Scotland can undergo a major shift in its housing.
It said: "The pandemic has not brought new issues to the front but has rather acted as a stress test, revealing pre-existing fractures. From putting their lives at risk as essential workers to facing financial collapse, working-class people are set to absorb the impact of economic disaster for the second time in a generation. The Holyrood elections in 2021 are a vital opportunity to rebuild for Scotland a fair, just, affordable housing system for all tenants."
The manifesto will be launched at a free event on October 20. The Eventbrite link for the event is available here, the Facebook event is available here and the event on the Living Rent website is available here.