Living Rent calls for 'proper rent controls to protect Scotland's tenants'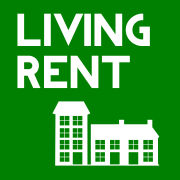 Scotland's tenants' union Living Rent has welcomed proposals to limit rent increases in private rented homes but cautioned that new measures need to go far enough in order to properly protect tenants.
The proposed Fair Rents (Scotland) Bill would cap annual rent increases to the Consumer Price Index plus 1% and allow private tenants to request a rent officer to determine a "fair open market rent" if they felt they were being overcharged.
Responding to the consultation on the bill, Living Rent supported both measures but cautioned that the proposed limit on rent increases is too high. It adds that a one-size-fits-all approach will not be able to take into account local conditions, and called for local authorities to be able to set lower limits in their areas.
The union reiterated its calls for a strong system of rent controls, designed not just to limit increases but to bring rents down, that limits carry over from tenancy to tenancy, and for rents to be linked to properties rather than tenancies and to the quality of a home. It argues that this is a vital way to both ensure affordability and incentivise urgent improvements in the private rented sector.
The report also argues that improvements to the quality of PRS housing will make an important contribution towards meeting Scotland's emissions targets by improving energy efficiency.
Gordon Maloney, co-author of the union's response, said: "It is clear that rents in Scotland are utterly out of control, and we desperately need measures to limit them. After the failure of the Scottish Government's Rent Pressure Zones, this bill is an important step towards ensuring tenants have somewhere safe, secure and affordable to live.
"But the devil is in the detail. New measures must ensure genuine affordability for tenants and not create loopholes for landlords to exploit, such as lifting the cap on rent increases in between tenancies."
Polling for Living Rent has previously shown overwhelming public support for such measures, with 75% of Scots - and 85% of SNP voters - backing calls for a national system of rent controls.