Living Rent: Next parliament must solve Scotland's housing crisis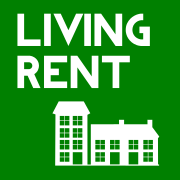 Scotland's tenants' union Living Rent has called on parties and candidates for the upcoming election to back its 'tenants' manifesto', warning that the next parliament cannot simply aim for things to return to how they were before the pandemic.
Living Rent, which represents private and social tenants across the length and breadth of Scotland, said that the pandemic has only exposed how broken rented housing in Scotland has always been, and is calling for major overhauls to the housing system.
The SNP, who polls suggest will form the next government, have promised a major new Housing Bill in the next parliamentary session, and tenant campaigners are pledging to fight hard to make sure this bill includes "bold and radical action". According to the tenants' union, the legislation must be an opportunity to solve the housing crisis, not just "tinker around the edges".
Across the parties at this election, in a marked change in tone from previous parliaments, there has been broad consensus on the need for massive social housing construction. Living Rent has welcomed this and said it looks forward to working with government and opposition to deliver the most ambitious social housing construction possible, as this will have the greatest impact on the rent crisis.
Gordon Maloney, from Living Rent, said: "The last twelve months have exposed how broken Scotland's housing system is, but none of these problems are new. For decades, politicians have sat on their hands while social housing crumbled and rents sky-rocketed. The Scottish and UK governments have both missed opportunity after opportunity to address the fundamental problems, but instead they have sided with landlords and big developers over and over again.
"Tenants cannot afford another five years of broken promises and failure - the next parliament must take the bold and radical action necessary to end the housing crisis once and for all, and tenants up and down the country are getting organised to make sure that happens."