Living Rent 'strongly supports' extension of emergency COVID-19 measures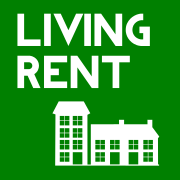 Scotland's tenant's union Living Rent has voiced its support for the extension of the emergency measures granted under the Scottish Coronavirus Acts.
Since the beginning of the pandemic, Living Rent has demanded that the Scottish Government act to rigidly protect tenants from eviction. These demands include a permanent continuation of the pre-action requirements and current eviction notice periods.
The union said that the extension of pre-action requirements, notice periods, and the moratorium on evictions have provided a lifeline for tenants during the past fifteen months.
Living Rent said: "Throughout the past fifteen months, our homes have been our frontline defence against the virus. Preventing eviction therefore remains of the utmost importance to ensure that tenants are not forced from their homes both in the context of a public health emergency, and the uncertain long-term economic consequences we face in recovery."
Living Rent, and other organisations warned of a tidal wave of evictions. Between 25th March 2020 and 17th May 2021, 277 eviction orders were granted by the Housing Tribunal for the private rented sector.
The organisation added that social landlords have issued staggering numbers of notices of proceedings to their tenants, with Homeless Action Scotland reporting that 1000 had been served in March this year.
Upon entering level 2 restrictions, landlords and Sheriff Officers can now legally enforce these orders.
Living Rent said: "Without continuing to extend the notice periods for tenants, Scotland risks increasing the number of evictions taking place, overwhelming local councils, homelessness services, and forcing people from their homes whilst coronavirus cases increase."
Of the granted executive orders, 155 of these were granted under Ground 12, meaning the tenant had more than 3 months of arrears. Without continuing the notice periods, tenants who have lost income due to the pandemic have limited opportunity to secure alternative employment and challenge their eviction.
Living Rent said that the Scottish Government had made it clear that 'no landlord should evict a tenant because they have suffered financial hardship due to COVID-19'.
The union continued: "Our member, following Government instructions, negotiated a rent reduction with their landlord after being made redundant during the pandemic. After paying rent at the agreed rate for three months, the tenant received an eviction notice citing Ground 12. Since then, due to the extended notice periods they have been able to find new work."
"They stated: 'Because I'm working again, I got lucky. I was due to go to tribunal in April, I started working again in March'. Without an extension to their notice period, and a delay in the enforcement of evictions, our member has been able to remain in their home."
According to Living Rent, not all renters will be so fortunate, and the long-term economic hardship of the pandemic will continue to impact our ability to pay rent. Tenants facing eviction need time to find safe and viable alternative accommodation, especially those with vulnerable household members who require specialist housing.
Living Rent continued: "Especially given the failings of the loan scheme, with only 16% of applications being approved. However, the plan to roll-out the grant later this year means this grant is coming much too late for tenants who are currently being evicted. In addition, without any limits on rent levels, any money made available to tenants can go straight to the pockets of landlords. This could have an inflationary impact on rents, worsening the crisis."
It added that whilst extending eviction notice periods and the introduction of the grant are welcome steps, the Scottish Government must do more to protect renters from eviction both now and beyond the pandemic.
Living Rent's policy demands are as follows:
Extension to the eviction ban across all level restrictions, in line with furlough
Permanent continuation of pre-action requirements and current eviction notice periods
Changes to damages for unlawful evictions
A long-term winter eviction ban.
Living Rent concluded: "We believe the above proposals would give tenants, council workers, and homelessness services much-needed breathing space in the evictions crisis. However, it is important to stress that the above proposals are simply stop-gaps.
"A much deeper crisis underlies our housing situation, and to protect renters from eviction the Scottish Government must tackle the conditions which put tenants at risk of eviction in the first place. Sky-high rents, the decline of public housing, and a lack of accountability for both private and social landlords threaten to remove renters from their homes. Therefore, Living Rent will continue to push for both the short- and long-term solutions to our housing emergency."