Lochalsh & Skye receives £4m charitable bond funding from Allia C&C
Lochalsh & Skye Housing Association has received a loan of £4 million through a charitable bond arranged by Allia C&C.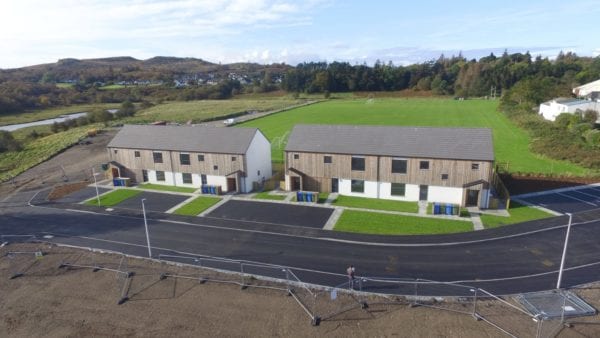 The loan will fund the construction of 52 new homes on Skye for affordable rent. At the Campbell's Farm development in Broadford, this phase of development will see a further 24 homes built, with a mix of types from 1 bedroom flats to 3 bedroom houses. At the Kyleakin Feus site, another 28 units will be built including four 4 bedroom family homes.
It is the second loan that the association has received under Allia C&C's programme with Scottish Government, and comes as Allia C&C prepares to open a new Scottish office.
The charitable bond programme provides simple, unsecured loans to housing associations for up to 15 years, while the interest paid over the life of the loan funds a grant programme for social housing subsidies.
Lachie MacDonald, chief executive of Lochalsh & Skye Housing Association, said: "We are delighted that we have been successful in securing this additional financial support from Allia C&C which will help us provide more much-needed housing within the area."
Daniel Carrico, head of origination at Allia C&C, added: "We're really pleased to provide this second round of funding for Lochalsh and Skye Housing Association through our charitable bond programme. The continued strong demand for the programme shows how valuable this kind of unsecured, simple funding is to housing associations for the development of new affordable homes."
Over the last six years Allia C&C has worked with Scottish Government to distribute over £200 million of funds through loans and grants to support the development of new affordable housing across Scotland.
Allia C&C is now in the process of opening a new office in Glasgow to manage the charitable bond programme and extend its other services to housing associations, charities and impact organisations in Scotland and the North of England.
The firm has also appointed Peter Freer as its new director with responsibility for Scottish business. Mr Freer is widely known and respected in the social housing sector and has extensive banking experience.
Peter Freer said: "I'm delighted to be joining Allia C&C and becoming part of its mission to support organisations making positive social impact. The charitable bond programme has played a significant role in enabling the creation of new affordable homes in Scotland and I look forward to building on its success."