Michelle Major: Telling it like it is to the housing minister
This week, Kevin Stewart MSP, Scotland's housing minister, along with senior Scottish Government officials, had the opportunity to meet via video link four members of All in For Change, people with their own lived experience of homelessness. Homeless Network Scotland's change lead Michelle Major co-ordinates the All In for Change meetings and facilitated this week's video chat.
Speaking truth to power takes on a different feel when the 'power' calls the meeting. So it was when a call came in from the office of Kevin Stewart MSP a few weeks ago asking to meet volunteers from All In for Change and find out what matters most to them as we emerge from lockdown and look forward to building a better future.
The All In for Change team meet monthly to track progress on the ground towards ending homelessness in Scotland, feeding their experiences and perspectives straight back to the Homelessness Prevention and Strategy Group, which is co-chaired by the Scottish Government and COSLA. Members of the team include people who have experienced homelessness as well as those working in homelessness services in different parts of Scotland, making it a unique forum that breaks down traditional barriers and brings a wealth of personal experience to bear on the issue.
Team members are referred to as change leads and on Tuesday 9 June, change leads Martin Boyle, Derek Jaffray, Joyce Juma-Phiri and Shea Moran were joined in a video call by Mr Stewart to share ambitions for the future and ask questions about moving out of lockdown, including supporting people who do not have a safe and secure home to return to.
Discussion points raised by those on the call.
How will those people accommodated in hotels be supported post-lockdown so that no one returns to rough sleeping?
Can we keep positive changes, such as weekly methadone prescriptions?
can we make sure no one is evicted into homelessness, restarting the cycle?
Can we support young people with care experience/homelessness experience to access technology, creating equality and connections to peers and opportunities?
How can we address systemic racism where it exists, including overcrowding and destitution among communities due to immigration and asylum, which are reserved matters?
The Change team was established in October 2019 to make sure the voice of lived experience is at the heart of system change in Scotland. It has influenced thinking and action around the Government's Ending Homelessness Together Action Plan and, collectively, the team have demonstrated an understanding of the reality of homelessness from the viewpoints of both service providers and people who need to access homelessness services.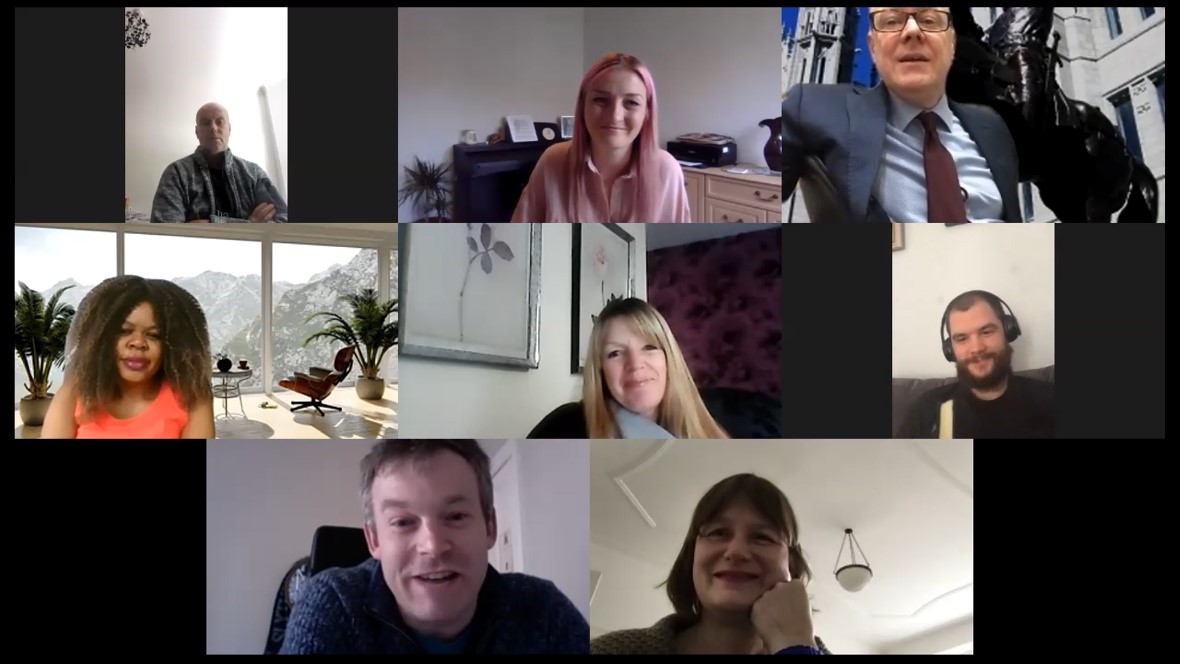 Change lead Derek Jaffrey has experience of homelessness in the UK and in European cities. Derek has been involved in all the Change Team meetings since it was set up in late 2019, and said after the meeting:
"For me, it felt like we went straight to the main man, not having to go through the ranks. I've been worried about how people in hotels will be accommodated when we move out of lockdown and I definitely feel he took our message on board. Kevin is genuine and easy to talk to and made sure we were comfortable to speak our minds. As a fellow Aberdonian, it was nice to hear the accent. I'm looking forward to working together again on ending homelessness in Scotland."
The discussion on Tuesday was rich, filled with solutions, challenges and empathy. Kevin Stewart, the housing minister, demonstrated the government's commitments to All in for Change by attending and speaking at our first meeting way back in October. By taking part in Tuesday's conversation Mr Stewart was able to provide new information and routes to influence even greater change, highlighting the reconvened Homeless and Rough Sleeping Action Group (HARSAG) to prioritise decision making, informed by the Everyone Home Collective of 19 leading charities in Scotland that was launched at the end of May.
Watching the news, so much is changing in the world in this pivotal year. Scotland was already leading change in our response to homelessness. Add to that the work that has taken place in recent months to bring everyone inside and it all points to a fairer, more effective and more compassionate approach to homelessness for the 20s and beyond, with the voice of lived experience at its core.
All in for Change is being led by Homeless Network Scotland, Cyrenians and Scottish Community Development Centre (SCDC). Homeless Network Scotland has 70 members across the country including local authorities, housing associations, individuals and third sector organisations. Membership of Homeless Network Scotland is free of charge for 12 months if taken out before 30 September 2020, email hello@homelessnetwork.scot for more information.