Minister hears how 'dream' Loretto home changed tenant's life
Shona Robison MSP heard for herself how new homes can change people's lives when Loretto tenant Stanislava Petrova and son Lubomir were welcomed into their new home at Queens Quay in Clydebank this week.
The cabinet secretary for social justice, housing and local government heard how ten-year-old Lubomir – who uses a wheelchair – is happier, more positive and more independent thanks to his new home.
Queens Quay is made up of 146 homes for social rent – 80 homes for Loretto, part of Wheatley Group, 37 for Clydebank Housing Association and 29 for West Dunbartonshire Council – on the site of the former John Brown shipyard in the town. Fourteen of the flats are adapted for wheelchairs.
Stanislava moved in with sons Lubomir, who has cerebral palsy, and Samuil, seven, in September.
She said: "This is like a dream for us. Lubomir couldn't even wash himself in our previous flat, now he can get in and out by himself and move around on his own.
"He can use everything – light fittings, the cooker, sockets – from his wheelchair. It makes such a difference. He's happier, more positive and more independent.
"There's more space for Lubomir's equipment and the boys both have their own room. We feel really supported here.
"The heating system means the flat stays nice and warm and the location is great, with the leisure centre, health centre, train station and shopping centre all close by. The schools are good too.
"We really appreciate what we have here."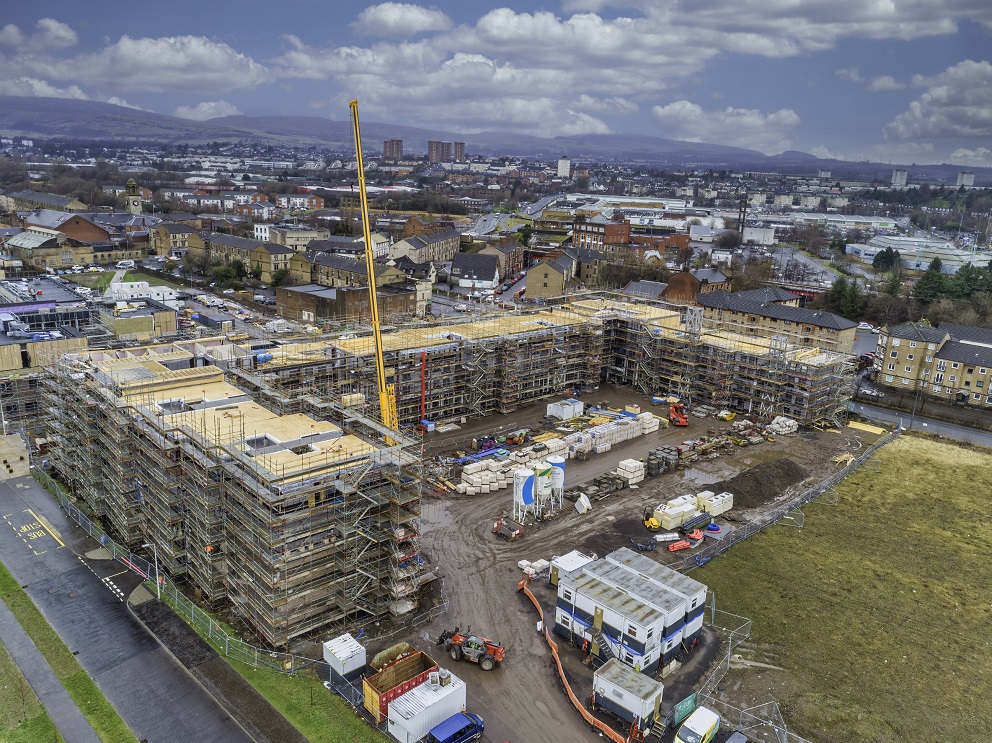 The £27 million development at Queens Quay, which includes £15.6m in grant funding from the Scottish Government, is a mix of one, two and three-bedroom flats.
The new homes are connected to an innovative district heating system – which includes £6m funding from the Scottish Government – which cuts carbon emissions and helps tackle fuel poverty. The development also features electric car charging points.
The cabinet secretary said: "It is fantastic to see first-hand the completion of these 146 affordable homes in Clydebank and hear about the positive impact they will have on the lives of residents.
"This landmark development, supported by almost £22m Scottish Government funding, includes the provision of a district heating system which offers residents a high-quality, energy-efficient home and helps tackle fuel poverty.
"These affordable homes contribute to our commitment of 110,000 affordable homes by 2032, of which at least 70% will be for social rent and 10% in remote, rural and island communities. A project of this scale illustrates what can be achieved through strong partnership working and I congratulate all of those involved."
Jo Armstrong, chair of Wheatley Group, said: "We were delighted to welcome the Cabinet Secretary to Queens Quay today to see how new homes can transform people's lives.
"It's great to hear how young Lubomir is more independent thanks to the adaptations in his flat.
"The district heating system at Queens Quay also cuts carbon emissions and helps us tackle fuel poverty at the same time."
Queens Quay is the £250m flagship regeneration project in West Dunbartonshire. The homes, all for social rent, are being built by contractors CCG.
Councillor Gurpreet Singh Johal, convener of Housing and Communities at West Dunbartonshire Council said: "Delivering modern, sustainable homes suitable for all is a key part of our mission. Our modern Amenity Housing design ensures properties meet the requirements of tenants with additional needs, allowing them to live with greater independence within their home.
"This development is also the first residential development to be heated in its entirety by West Dunbartonshire Council's innovative district heating network, which means these homes are more sustainable, but are also helping us alleviate fuel poverty for our residents."
Lynette Lees, chief executive of Clydebank Housing Association, said: "We're delighted to have worked with our partners at Loretto and West Dunbartonshire Council on this prestigious new development in the heart of our town. We are grateful to the Scottish Government and our lenders, CAF Bank, for their financial support to enable the provision of our 37 much-needed homes for rent which will be a welcome addition to our housing stock."
CCG managing director David Wylie added: "We've had a long and productive partnership with Wheatley Group, delivering homes and helping build communities people want to live in. It's great to hear first-hand how tenants are enjoying life at Queens Quay."
Earlier phases of Queens Quay included a new campus for West College Scotland, a health centre and care home. The regeneration of the 23-hectare site will also include hundreds of new homes for private sale, as well as office, leisure, retail and hotel space.