Morag Hutchinson: Tackling the housing crisis in a greener way
Continuing our COP26SHN showcase of the social housing sector's efforts to help tackle the climate crisis, interim managing director Morag Hutchinson details Riverside Scotland's current modular build project.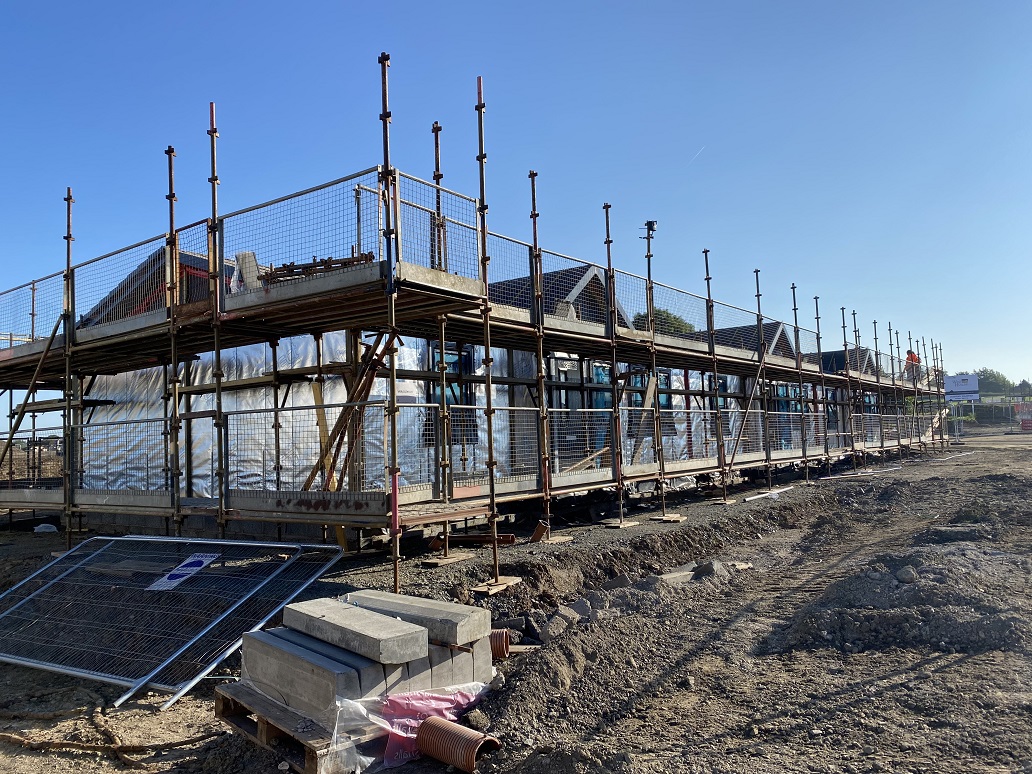 We are facing a double crisis: climate change and a critical shortage of affordable homes.
We need to build more affordable homes across the country - that's something that's widely accepted within the housing sector, but it's easier to talk about than to achieve.
And it's even harder to achieve it in a sustainable way that helps tackle the global challenge of climate change.
But maybe there is a new solution…..modular homes.
At Riverside Scotland, we're working with Connect Modular (part of The Wee House Company group) to build the country's largest affordable modular homes development in Dundonald, South Ayrshire. Once completed, the development will be home to more than 63 residents and families, with specific provision for veteran households and accessible homes.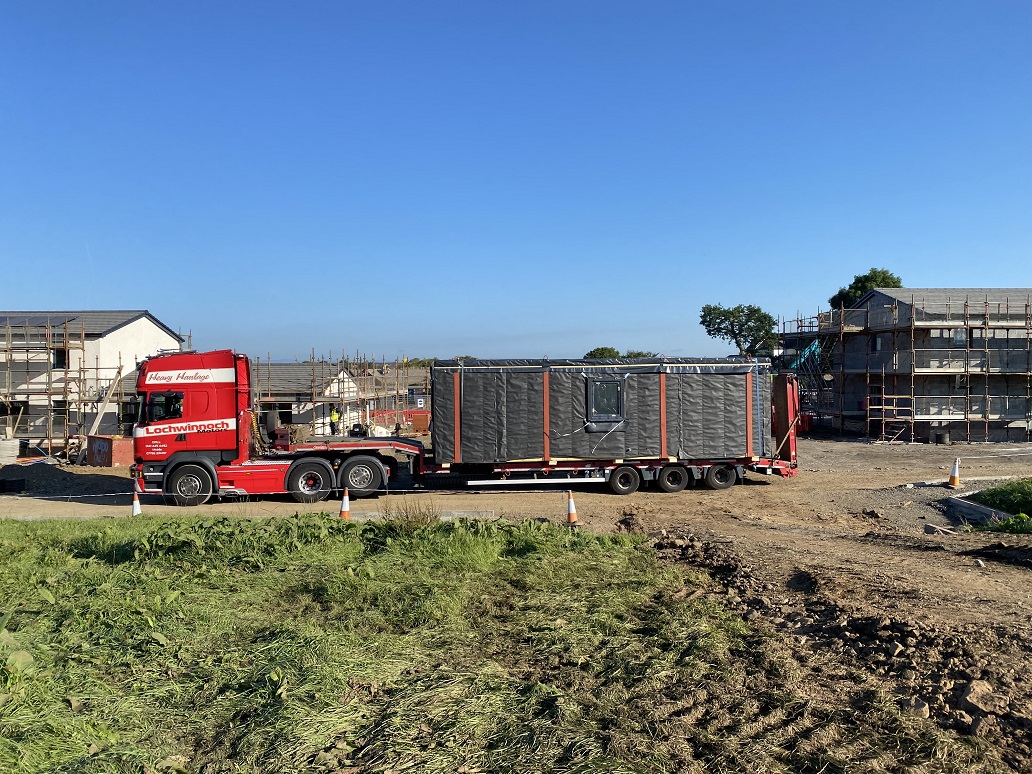 So why did we choose modular homes? Well, there are a few key reasons below….one of them being the environmental benefits that can be achieved by building modular homes over standard built homes.
It's affordable, with the cost to build a modular home significantly below the cost of a standard house build, which means we can build more at any one time.
It's delivered more quickly – these 63-homes are expected to be built, put in place and let out in around a year.
It's greener – as homes are built off-site, there is lower waste because each home is built to a consistent plan.
It's good quality – the fact that all timber and sheet materials are stored in dry, controlled conditions before inclusion in the build makes the quality even better than a conventional build. There is consistency and high quality control within the factory setting.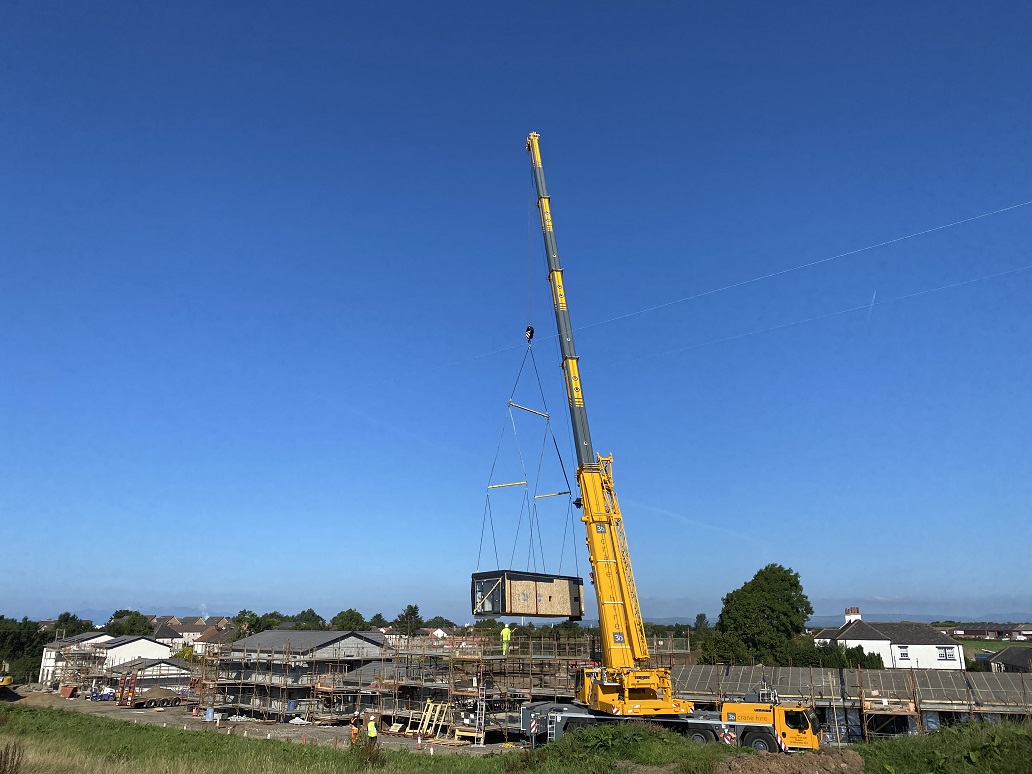 In particular, the use of offsite technology has made a real difference in lowering the environmental impact of modular developments. Energy consumption, building running costs and overall energy efficiency levels have been substantially improved by specifying offsite technology. Here are some examples of this:
Controlled factory conditions make it easier to improve the future sustainability of homes. For example, better air tightness is achieved as standard
Construction waste is up to 84.7% less that on traditional sites
The factory environment allows for a stringent quality regime and minimal defects. With materials being stored in a dry, undercover setting, the risk of damaged materials is reduced significantly
Material off cuts are carefully sorted and stored for later use elsewhere in the production line
Cardboard and plastic packaging is kept dry prior to bailing and recycling and general waste can be more efficiently segregated
Reduced on-site time minimises construction traffic and related emissions by up to 50% and disruption to neighbouring residents
The risk of weather delay is greatly reduced when working in a factory setting, which also diminishes the health and safety risks of extreme weather
All timber is sourced from sustainable FSC approved suppliers including -

Södra is an international forest industry group owned by more than 53,000 forest owners. The wood raw material supplied by its owners is processed into renewable, climate-smart products.

British Gypsum - 100% of timber comes from sustainable sources and Gypframe metal sections and Gyproc plasterboard are 100% recyclable.

Compared to an equivalent, traditionally built project, up to 67% less energy is required to produce a modular building
The average energy bill (lighting, heating and hot water) for a 2-bed semi-detached modular home is 90 pence a day (source: The Wee House Company, based on EPC).
As a business we too take seriously our responsibility to reduce the impact of our operations on the environment… it matters to us that our customers, our team and our suppliers play a role in creating a greener lifestyle.
When it comes to building much-needed new homes, we must respond with innovative solutions - modular living has the potential to accelerate build times, improve quality control and deliver enhanced sustainability by reducing waste and increasing energy efficiency.
Developments like Dundonald allow us to tackle the housing crisis at speed and scale as well as helping housing providers like ourselves and local authorities to achieve government targets, not only around housing but around climate change too.
To kick off the COP26SHN feature in conjunction with our sister publication Scottish Construction Now yesterday, we published the first episode of The Scottish Housing News Podcast and an accompanying Black's Blog.
All the COP26SHN articles will be available to view here. New contributions are still welcome and feel free to join in the conversation on social media using #COP26SHN.