MSPs pay tribute to popular Big Issue vendor
A motion has been lodged at the Scottish Parliament which pays tribute to a Big Issue vendor who died earlier this month.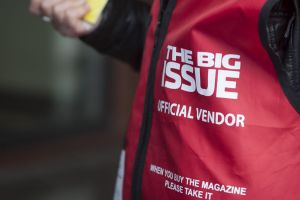 Paul Kelly, known for his calls of "don't be shy, give it a try", died outside his home after what police called "a violent attack".
The 50-year-old, who sold The Big Issue in Glasgow city centre and in East Kilbride, was the victim of a violent attack on the morning of June 15. He was found outside his home in the Knightswood area of Glasgow. Emergency services were called but Kelly died at the scene.
MSP Monica Lennon tabled a motion for politicians to remember him on June 19.
She put forward: "That Parliament pays tribute to Paul Kelly, who was well known and loved in Glasgow and East Kilbride as a friendly and valued member of The Big Issue team… welcomes the fond tributes pouring in from members of the public who knew Paul from his Buchanan Street Sainsbury's pitch and Marks & Spencer and St Leonards Square in East Kilbride, remembering him as kind, polite, friendly, and for his good banter."
Lennon also noted that a book of condolence was opened at St Leonards Square on June 23.
The Big Issue also paid tribute by putting Paul on the cover of this week's Scottish edition of the magazine with editor Paul McNamee writing in memory of the veteran vendor that: "It just feels odd and it feels sad and a little darker that Paul Kelly isn't in this world".
A 46-year-old man has been arrested and charged with murdering Mr Kelly. He has been remanded in custody and is expected in court at a later date.