Muirhouse Housing Association hails trainee success
Muirhouse Housing Association has hailed the success of its current trainee Courtney Wilson who recently completed her SCQF Level 6 in Business and Admin course after having also completed her first year with the Association.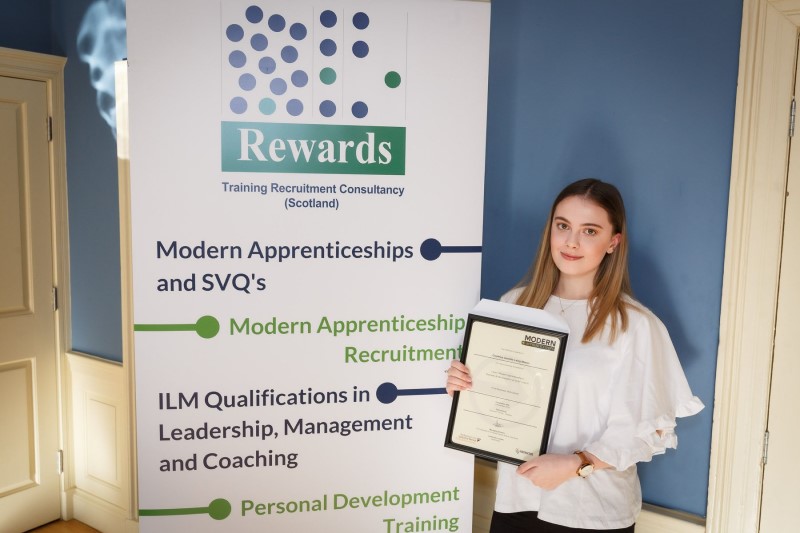 Now that Ms Wilson has completed her SCQF in business and admin she is moving on to new challenges. She has just started her new Digital Marketing SCQF Level 6 Modern Apprenticeship, this means she will be supporting the development of our website and social media.
Grit Nielsen, corporate services team leader, said: "It's fantastic to see a young person join our team and gain confidence in their own abilities and development as they work towards completing the Business and Admin Apprenticeship.
"Courtney has been amazing and has a keen interest in learning and improving and she has been diligent in completing her assignments throughout her first year. She has also had tremendous support from her assessor, so we have had the chance to witness Courtney develop her role and in her interactions with colleagues and customers. We're so proud of how far she has come."
Last week we had the pleasure of attending the awards ceremony hosted by Rewards Training Scotland at Riddles Court in the Old Town where Courtney was presented with her certificates, along with her line manager and colleague Grit who attended.
Ms Wilson said: "I'm very pleased to have completed my Business and Admin Level 6, it has helped me develop more skills in my role and given me more self-confidence. I can't thank my assessor enough she was very helpful, understanding and flexible. I also can't thank MHA staff enough for supporting me through this first year, and I'm excited to start my new journey into Digital Marketing."