New Alyth homes set to take carbon emissions to new low
Perth and Kinross Housing and communities convenor Councillor Bob Brawn and Hillcrest chair Alan Russell made a Scottish Housing Day visit to a small development of four Hillcrest homes being delivered in Alyth, which are set to drive carbon emissions to new lows for affordable housing.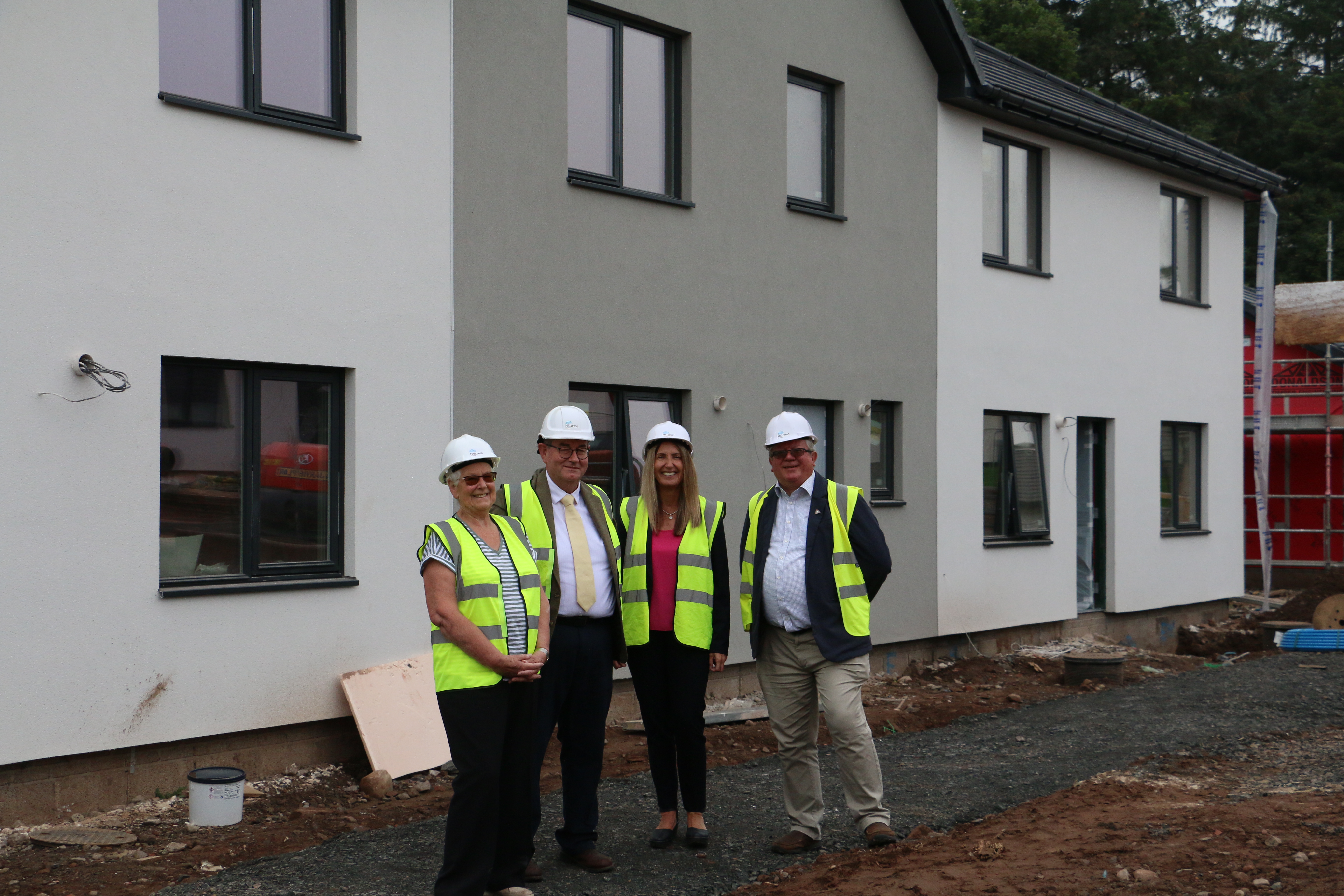 Work started on the four new homes, which are located at Airlie Green, Alyth, in February with the properties anticipated to be completed at the end of 2021.
To reach new levels of energy efficiency and cut carbon emissions to almost zero, the homes are being developed with a number of technological innovations.
For heating and hot water, the homes will use an air to water heat pump, which absorbs and amplifies heat from the air and transfers this to a system of piping within the property. The homes will also be fitted with increased insulation that exceeds the Scottish Government's Greener Standard.
With Hillcrest Homes committed to reducing the carbon footprint of its homes, these properties represent a new energy efficiency benchmark not just for the organisation, but for the affordable housing sector as a whole.
The four homes will consist of two three-bedroom houses and two one-bedroom cottage flats.
The properties will give the provision of social housing in rural Perth and Kinross a welcome boost, while the advanced energy efficiency measures will help keep energy bills as low as possible.
Hillcrest chair Alan Russell said: "As an organisation, we are not just committed to delivering quality homes suitable for a range of needs, but also to our environmental responsibilities.
"Our development in Alyth is a testament to these efforts, with a number of innovations implemented to take the carbon footprint of these homes to new lows.
"As a result, the homes will not only be hugely environmentally friendly, but will also greatly reduce our tenants' energy bills, helping them live more comfortably."
Perth & Kinross Council works with registered social landlords in the area to increase the supply of local social housing for affordable rent.
The council's housing and communities convener, Councillor Bob Brawn, added: "On Scottish Housing Day, when we are focussing on what we can all do to prevent a climate emergency, it's fantastic to see these new homes being built in Perth and Kinross.
"The homes feature some cutting edge technology that will help drive down the energy consumption and the bills of the tenants who live in them, and minimise the carbon footprint of Perth and Kinross.
"We need more homes for affordable social rent, but we also need to ensure that any new builds help us to meet our climate change obligations. I look forward to continuing our work with Hillcrest to deliver more and more homes to this very high standard."