New design guidance published to support physical distancing implementation
Sustrans Scotland has published new design guidance, aimed at supporting organisations implementing temporary walking and cycling infrastructure to enable physical distancing during COVID-19.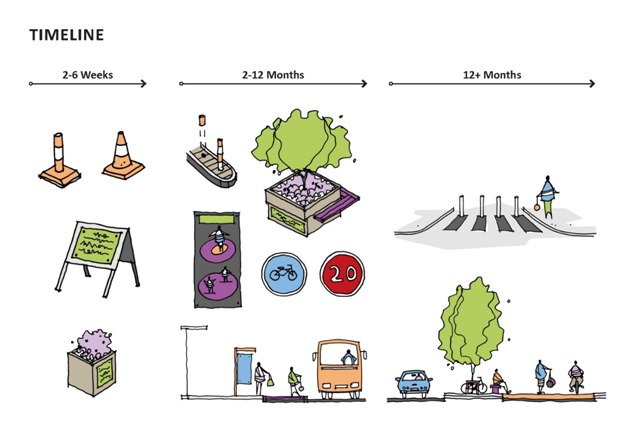 Developed in collaboration with design and engineering consultants Atkins, the free online guide seeks to inspire creative and functional solutions to the issues surrounding physical distancing.
It is aimed at local authorities and statutory bodies in Scotland with planning and roads oversight and has been funded by the Scottish Government through its Spaces for People programme.
The guidance is split into a number of sections, and covers support for walking and wheeling, cycle routes, traffic management and signage.
As well as taking an in-depth look at best practice examples of temporary active travel facilities from around the world, each section also addresses safety and mobility impairment considerations.
The guidance is advisory in nature and will be kept 'live' and updated as government guidelines around movement change, or when more evidence is available and lessons are learned from the implementation of different types of interventions from across the world.
There is also a graphic project and material durability timeline provided for partners to consult, as well as links to various other support documents.
Sustrans principal engineer, Paul Cronin, said: "Walking and cycling has proved to be an important part of the UK's resilience against COVID-19.
"This comprehensive guidance has been developed in response to requests from our partners.
"We hope will help them identify opportunities and measures which will make it easier and safer for people to walk, cycle and wheel for every day journeys whilst responding quickly to local needs.
"Our recovery from the pandemic can be a catalyst for positive, long-lasting change in the way we live and move around. We hope this guidance will make it easier and safer for more people to walk cycle and wheel for more of their everyday journeys as we transition out of lockdown."
Ujwala Fernandes, associate landscape architect for Atkins, said: "The pandemic has presented us with an unprecedented opportunity to re-think and transform the way we design our towns and cities to influence travel behaviours long term. We hope this guidance provides an inspirational toolkit to enable designers to introduce temporary facilities into their streets and urban spaces quickly and safely."
Read all of our articles relating to COVID-19 here.