New development of council homes delivered in Perth
A development of 70 brand new council homes for affordable rent has been completed in Perth.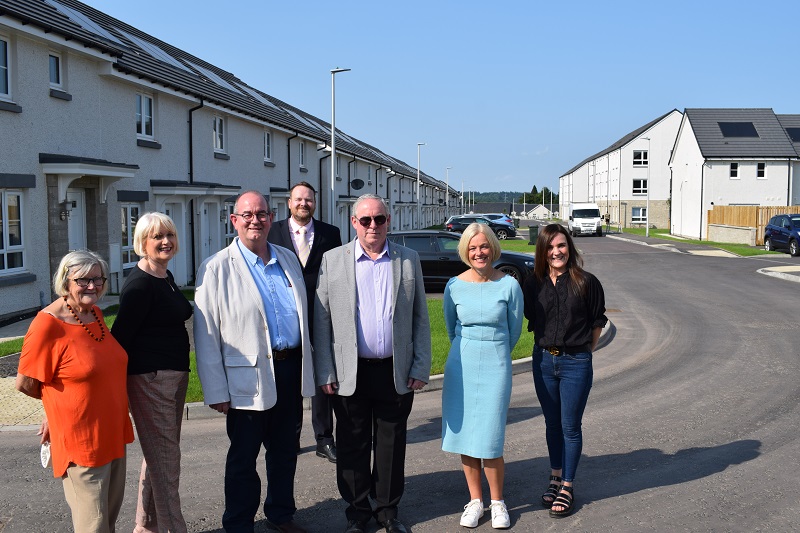 The £9.2 million development at Huntingtower Park is the largest development of new council homes since Perth & Kinross Council (PKC) restarted its house building programme in 2012. This makes it the biggest build of new council housing in Perth and Kinross for several decades.
The homes, which will provide much-needed high-quality accommodation for affordable rent, were delivered through a partnership between the council and construction partner Barratt Homes, helped by funding from the Scottish Government.
The mix of two-bed flats and two & three-bed council houses are part of a larger development built on the site of the former cattle market at Huntingtower.
All of the properties are built to the highest standard, with energy efficiency technology built-in including solar panels on all the homes. This will drive down tenants' household bills and reduce the carbon footprint of the development.
The council's housing and communities convener, Councillor Bob Brawn, visited the development yesterday and said: "This is the council's largest new-build project since we began our construction programme nine years ago, and I am absolutely delighted to see it completed.
"The development will significantly increase the council's affordable housing stock, providing high-quality accommodation that will support our tenants to live life happy and healthy lives. It also addresses a wide range of different housing needs, with larger accommodation for families as well as smaller flats, which will create a vibrant, mixed community."
Vice convener, Councillor Chris Ahern, added: "The completion of Huntingtower is a major landmark in the council's affordable house building programme, coming hot-on-the-heels of another major development of homes at Glebe in Scone.
"Increasing the supply of affordable housing continues to be a key priority Perth & Kinross Council, and we have many more builds in the pipeline. Each time we consult our existing tenants on what their priorities are for our spending, building new houses is near the top of the list.
"Each new home we build transforms the lives of the tenants who live there, and also helps to tackle homelessness and housing need in our area. It's fantastic to see this major new development ready to welcome tenants."
Barratt Homes technical director, Scott Petit, added: "As an award-winning 5 star home builder we are proud to have partnered with Perth & Kinross Council to provide these much needed 70 new family homes for the community on this award-winning and extremely popular development. We are looking forward to continuing our positive relationship and partnership going forward."