New guidance on Section 11 processes issued by SFHA and Scotland's Housing Network
The Scottish Federation of Housing Associations (SFHA) and Scotland's Housing Network have published guidance on Section 11 processes to help minimise tenancy failure and prevent homelessness.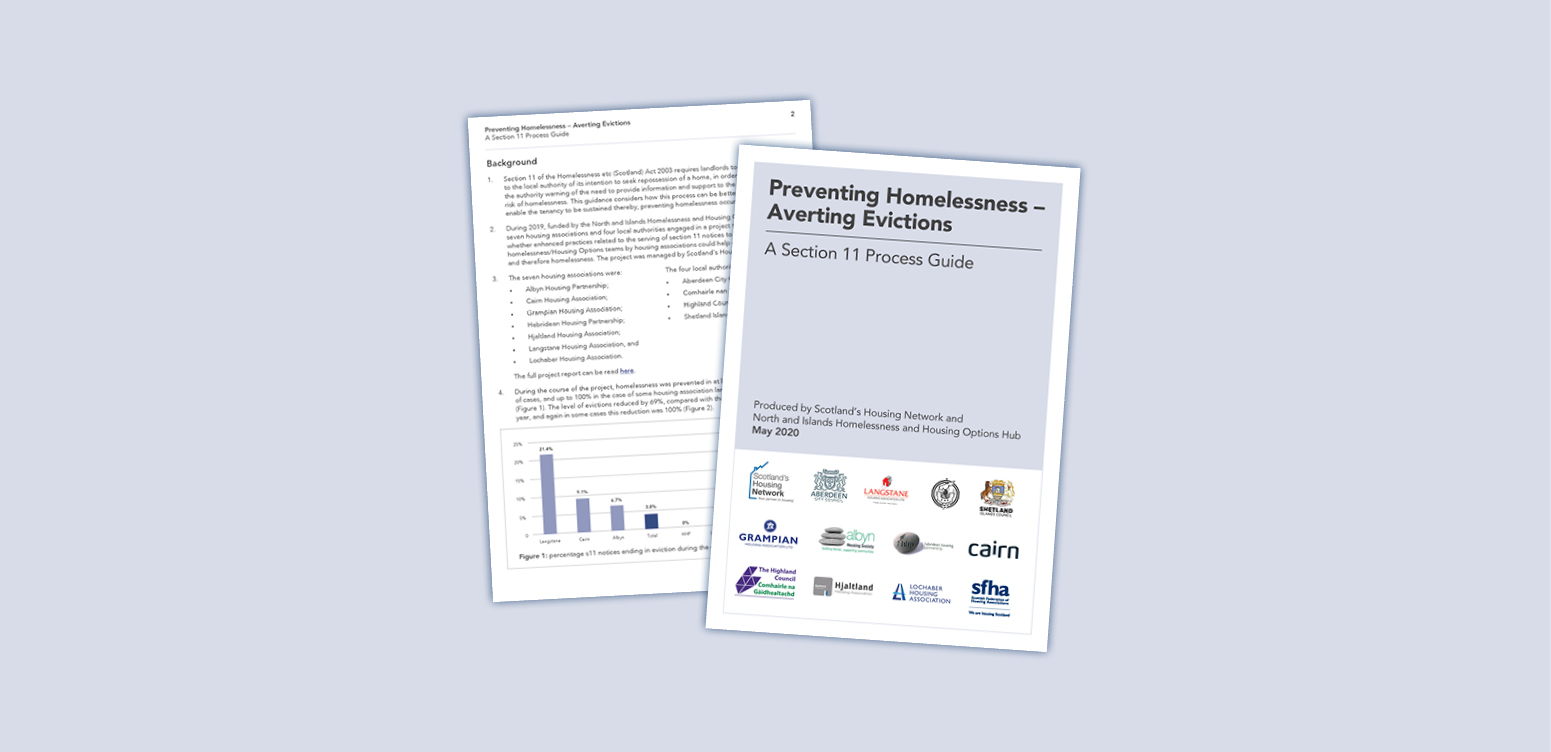 Preventing Homelessness - Averting Evictions is the product of a 2019 project funded by the North and Islands Homelessness and Housing Options Hub and facilitated by Scotland's Housing Network, involving four local authorities and seven housing associations in the North of Scotland.
The project looked at what measures could help avoid a tenant being evicted for rent arrears or anti-social behaviour and, in particular, what processes around the Section 11 notice could best be employed when the landlord had come to the decision whether to initiate possession proceedings against the tenant that might avert the tenancy failing.
Core to the approach are three key principles: early intervention, better data sharing, and collaborative working.
Tim Pogson of Scotland's Housing Network, who facilitated the project, said: "I would like to express my thanks to the staff of the seven RSLs and four local authorities who came together to commit to this project.
"Through their hard work and dedication, we discovered ways of successfully preventing evictions in a varied range of environments. Each organisation applied the three project principles, early intervention, enhanced information sharing and joint working, to suit their circumstances. Consequently, we were able to distil the lessons from each of those approaches."
Allan Jones, north and islands hub lead and housing manager (options and homelessness) with Aberdeenshire Council, commended the entirely practical nature of the project.
He said: "As a result of the hub making good use of its Scottish Government funding, there are now families still in their homes who might otherwise have been in temporary accommodation or worse, but more than that, even, we have captured a body of proven practice that can be applied throughout the rented sector and, hopefully, will go on to see many more households kept out of homelessness."
SFHA policy lead Jeremy Hewer said: "Ending homelessness is an overarching priority for Scotland. The recent initiatives to provide accommodation to rough sleepers in response to the COVID-19 crisis is testament to what can be achieved if there is a will, but preventing homelessness happening in the first place is as essential to ending homelessness overall.
"The new guidance serves this purpose and will stand beside all the other initiatives being taken by social housing providers."
The guidance is available via the Scotland's Housing Network website.