New home registrations in Scotland boosted by 43% in 2021
Scotland's housebuilding industry has demonstrated its resilience after new data published by NHBC shows there were 12,599 new home registrations in 2021, a 43% increase on 2020.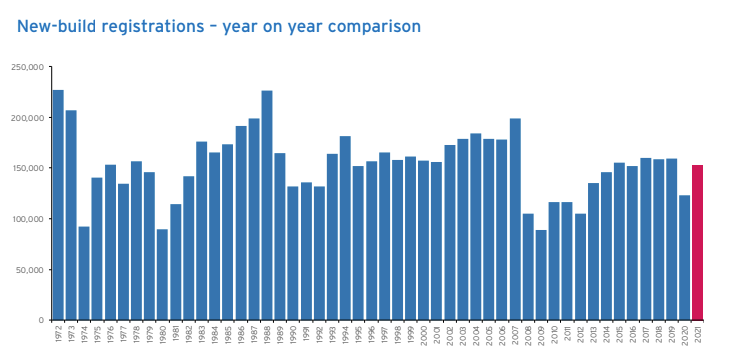 Compared to the eight-year-low seen in 2020, where registrations fell to 8,810, the sector experienced a significant rebound as it emerges from the pandemic. New home completions also showed a significant uplift in Scotland, increasing by 29% from 8,584 in 2020 to 11,063 in 2021.
Private sector registrations were the key driver, rising from 7,125 in 2020 to 10,991 in 2021, an increase of 54%. New home registrations in the rental sector decreased 5% from 1,685 in 2020 to 1,608 in 2021.
The pandemic has caused some change in attitude towards housing, with more people using their home for work, as well as reflecting on recreational and family life. Registrations for detached, semi-detached, terraced homes and bungalows all increased in Scotland in 2021. Detached homes saw the largest increase, rising from 3,822 in 2020 to 5,974 in 2021.
Raymond Baxter, NHBC regional director for Scotland, said: "Scotland's new build housing market remains positive, particularly in the central belt, with strong demand partly fuelled by weak supply in the second-hand market.
"While land competition and availability, local authority consent delays, supply chain and labour shortages continue to impact production, the house-building sector remains robust, and both builder confidence and consumer demand are high."