New council homes delivered in Chryston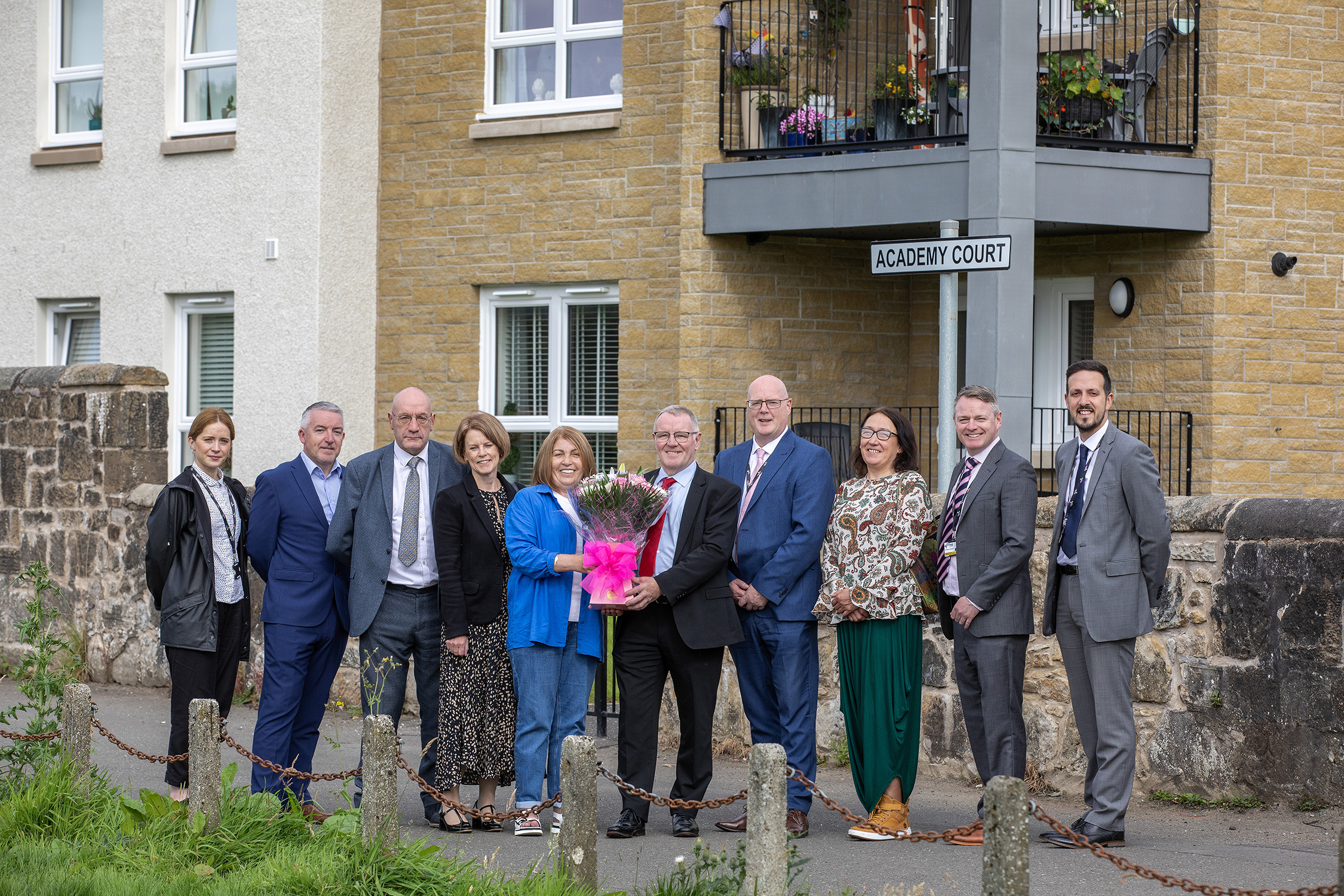 Tenants are now settling into their new homes following the completion of a new development in Chryston, on the site of the former Chilterns Care Home.
The 21 new build homes at Academy Court, Chryston, mark the 45th completed new North Lanarkshire Council house building project, highlighting the significant progress being made to deliver 5,000 new affordable homes by 2035.
The development comprises 21 flats and is set in the heart of the local community with tenants benefiting from access to local amenities including shops, schools, a medical practice, bus routes and a park.
This latest project costing £4.1 million, delivered by the Hadden Group, comprises a mix of 2 bedroom cottage flats and 1 & 2 bedroom walk up flats. Eight of the flats are built to wheelchair standard with the remaining 13 built to an amenity standard, meaning they adapt to suit the future needs of tenants. The new homes are also Secure by Design, improving safety and security.
The local authority is also building highly energy efficient homes as it embraces new, renewable technologies and these new homes also have access to communal EV charging pillar with two charging points.
The homes have access to a communal garden, complete with a timber bench built and fitted by students at New College Lanarkshire as part of our community benefits programme.
New tenant, Mrs Marilyn Wilson, who is enjoying her new home and the excellent facilities it has to offer, was presented with a bouquet of flowers at the completion event.
Attending were housing convener, Councillor Michael McPake; Councillor Claire-Louise Williams; Pamela Humphries, chief officer place; Stephen Llewellyn, chief officer housing management; James Stevenson, housing development manager; Bob Brownlie, local housing manager; Amy Docherty, project manager; Gavin Ansari, project development co-ordinator and Stephen Lynas, preconstruction and business development director, Hadden Group.
Convener of housing, Councillor Michael McPake, said: "It's great to see first-hand the fantastic new homes we're building across North Lanarkshire and to speak to the tenants who are living in them. Tenants tell us they're delighted with the quality of their homes and the high standard of the build.
"Our new homes are not only improving the lives of our residents, they are transforming communities, delivering local jobs and community benefits and boosting the local economy. We are committed to providing first-class homes and investing in the regeneration of our local communities to make North Lanarkshire the place to live."
Stephen Lynas, preconstruction and business development director, added: "We're pleased to see the successful delivery of our second project with North Lanarkshire's new council house building team. These new homes have been developed to a very high standard following a thorough design and preconstruction phase and will make a significant difference to the tenants in terms of their energy bills."
A contribution to the development of £1.2m was made by the Scottish Government.