New homes in Stevenston to support independent living
A new housing development in Stevenston will help to promote independent living for North Ayrshire residents with disabilities.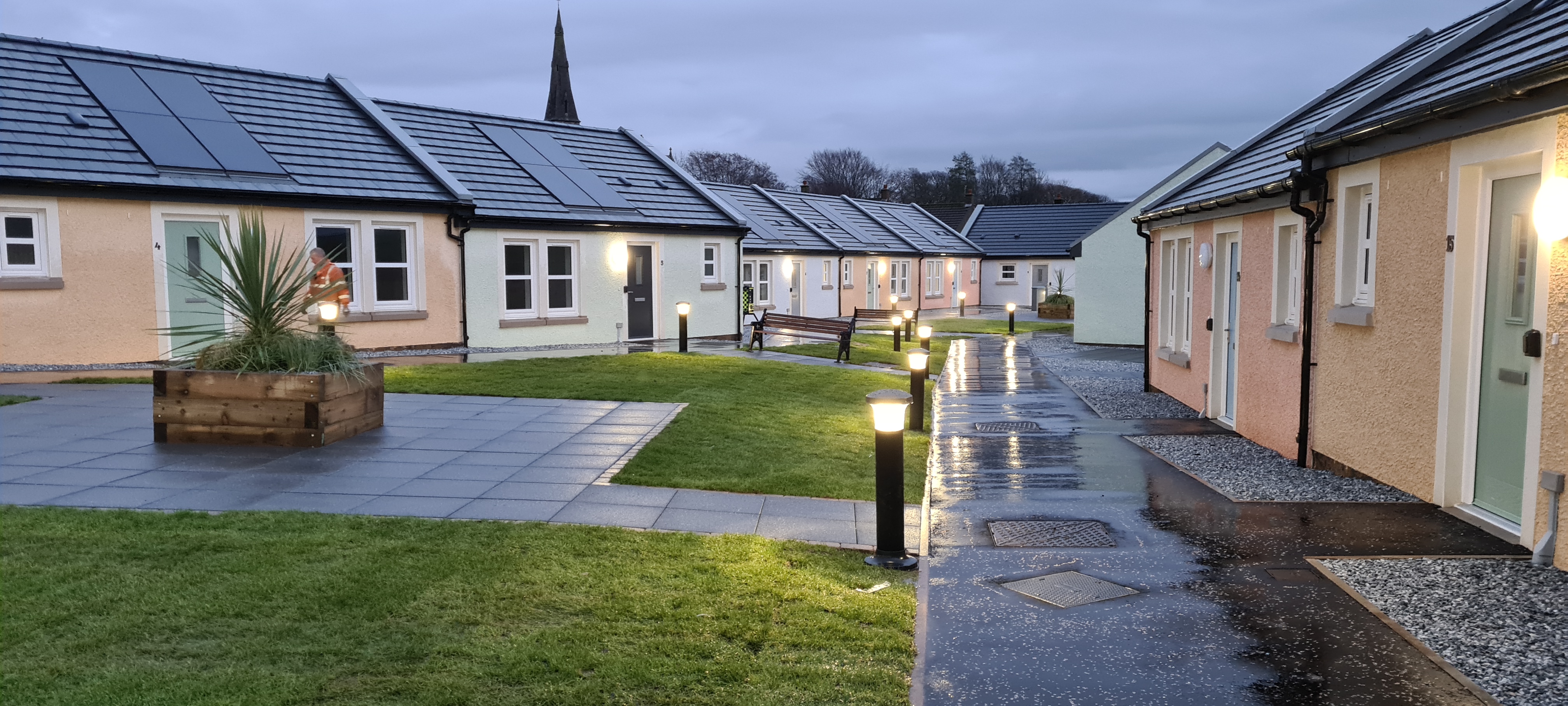 Due for completion in late summer 2022, the development consists of 12 one-bedroom and three two-bedroom homes on the site of the old Caley Court sheltered housing complex.
Caley Gardens is the latest development in a joint investment by North Ayrshire Council and North Ayrshire Health and Social Care Partnership to provide supported living accommodation for people with physical and learning disabilities and/or mental illnesses in North Ayrshire, with similar developments at Bessie Dunlop Court in Dalry, Bute Walk in Largs, St Michael's Gardens in Kilwinning and Trindlemoss Court in Irvine having already opened over the past two years.
Each home will be equipped so that assistive technology can be installed to suit the needs of each individual resident, helping to provide support in a way that promotes independence as well as reducing risk. In addition, 24-hr responsive support will be provided by third sector partner Key, which has been providing personalised support in the area for almost 30 years.
Allison Wright, who oversees Key's supports across Ayrshire, is keen to get ahead with ensuring everything is in place for people moving in later this year.
She said: "We are delighted to be partners in this exciting development. We are very much looking forward to getting to know the people due to move into their new homes and work alongside them and their families to plan the support they need to live good lives.
"Having excellent support workers, who know you well, is at the heart of providing really good support, so we are launching our local recruitment campaign now and want to hear from people who are looking to join our friendly, local team and make a positive contribution to people's lives.
"We are hosting two recruitment events at the Ardeer Community Centre in Stevenston on Monday 9 May (9.30am to 12.30pm) and Thursday 12 May (1pm to 4pm), where people can come along and find out more about the opportunities we have to offer."
Caroline Cameron, director of North Ayrshire Health and Social Care Partnership, said: "We are delighted to be taking forward this latest development in Stevenston. These new homes will allow individuals to live as independently as possible and live life to the full within our communities, with the assurance of having assistance on hand when required.
"We look forward to working in partnership with Key, an organisation that has been shaped by the lived experience of families and people with disabilities, and are keen to support them in their efforts to recruit the very best people to be a part of this exciting new development for disabled people in our community."