New Osprey home gives young family a fresh start
Osprey Housing has recently completed and handed over the keys for six eagerly anticipated new build houses in the village of Sauchen in rural Aberdeenshire.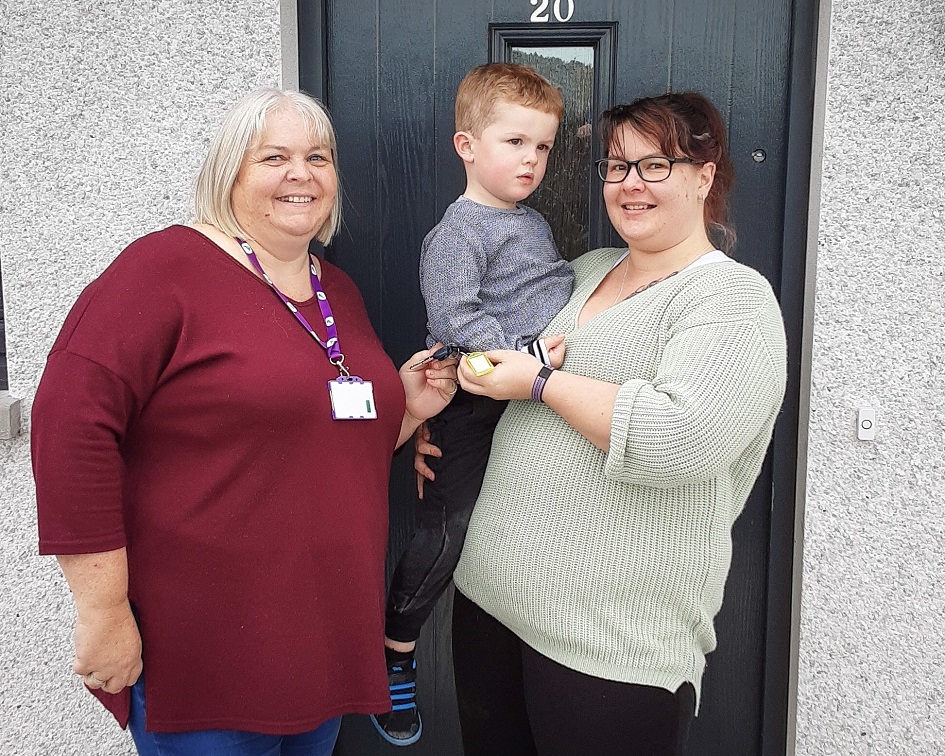 And for one family in particular this marked the chance to make the new start they so badly needed.
After Lisa Humphrey and three-year-old son Johny gratefully moved into their new two-bed house, she felt compelled to put her feelings in writing.
In an extract from a poem dedicated to Osprey Housing and the team who helped rehouse her, she said:
'We've got a new start
Keys to a new life
No more drama, trouble, or strife.
The joy on our faces we cannot hide
A beautiful Osprey home fills my heart with pride.'
Lisa, 29, said: "We have so much space here — there's even room for Johny to have a trampoline in the garden, and it's a joy to watch him play and run free across the grass.
"He literally squeals with delight, and it's wonderful for us both knowing he is safe, and we can both sleep in our beds at night with no worries."
Lisa added that she and Johny, who is attending a local nursery, could not wait for the first proper cold snap of winter so they could explore the nearby hills covered in snow.
Osprey Housing CEO Glenn Adcook said: "When we are able to help families like Lisa's, it really highlights the enormous difference we can make to people's lives.
"For me, it was deeply humbling to receive this beautiful poem inspired by their new home and to know that for Lisa and Johny moving to Sauchen has been a truly life-changing experience
"The whole Osprey team feel privileged we were able to make that happen."
The £737,000 Sauchen development at The Brambles comprises three two-bedroom and three three-bedroom terrace houses.
They form part of Osprey Housing's growing portfolio of homes in rural locations, and with developments also completed or on site in Kincardine O'Neil, St Cyrus, and Marykirk.
Together they add 25 new high-quality social rented homes across rural Aberdeenshire and represent a £2.97 million investment, supported by £1.9m of Scottish Government grant.
Mr Adcook said: "We have been focusing more and more on this type of location as in the past opportunities to provide new-build social housing in rural areas have been limited.
"Wherever we build, we are seeing that small numbers of the right type of social housing in the right place can have a significant positive impact on the wider rural community. Building new family homes helps, for example, to sustain village schools, local shops, the local economy and the local community more generally.
"All these new homes — built for us in collaboration with local developers — will make a valuable contribution to increasing the number of properties available for social rent in Aberdeenshire and we are delighted we are able to do this."