New semi-build property completed following explosion in Dalmellington
UK construction and fit-out specialist Morris & Spottiswood has successfully completed a sixteen-week project in partnership with Shire Housing Association to reconstruct a semi-detached property in Dalmellington following an explosion in 2018.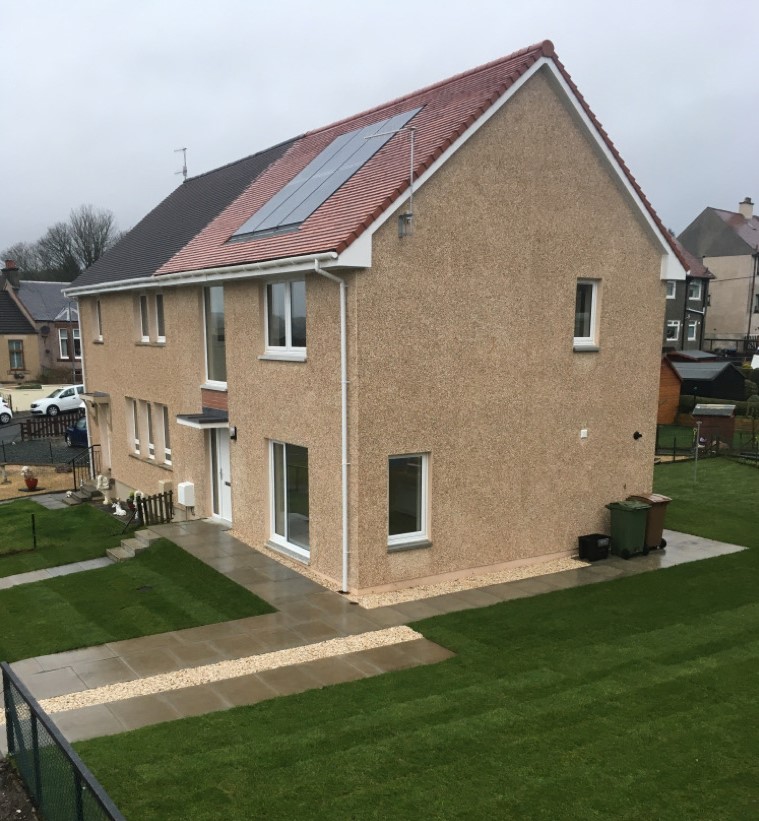 Works were delivered via new the firm's building housing arm Crosbie Homes.
The project was secured via the Scottish Procurement Alliance New Build Housing Construction Framework, of which Morris & Spottiswood are a key partner.
After initial demolition works, the contract involved the construction of a new build semi-detached house, directly comparable to the adjoining semi-detached property.
Key elements of the project included timber frame construction built on-site and wrapped with exterior block work with a render finish. Works were taken from floor slab to completion including all groundworks, fencing, landscaping, internal fit-out of kitchen and bathrooms, full decoration and all services connections.
This project was not without its challenges. Dalmellington being a remote location required lateral thinking from the offset on how to deliver through local labour suppliers, and due to the nature of the build, roof lines had to be matched like-for-like to the adjoining property. The project kicked off prior to the outbreak of Covid-19, putting works on hold for 16 weeks, and, due to the lack of space and proximity of the adjoining property, the inability to erect a 4-sided scaffold or use a forklift on site.
Stuart Cuthbertson, contracts manager at Crosbie Homes, said: "Operations, quality sub-contractors, understanding and good relationships are what made this project a success."
He added: "Kenny Allan (site manager) had a difficult task managing deliveries and co-ordination of materials due the small nature of this particular development and during the current restrictions with COVID, however the same safety and company procedures had to be followed as larger sites.
"His approachability and attitude were crucial in building an excellent relationship with the neighbouring occupant, who in turn was extremely accommodating and understanding during the project lifecycle.
"From the very start we established a close working partnership with Shire Housing Association who have understood the current restrictions and have been very approachable around cost saving solutions and time scales. The team, as a whole, for this particular contract worked very well together and I would hope that we can continue our relationship with Shire Housing Association in assisting them with continued works in the future."
Colin Robertson, senior asset officer at Shire Housing, said: "Despite many challenges, including the COVID-19 Pandemic, we worked well with the team at Morris & Spottiswood. We are delighted with the finished property, which will be a real asset in sustaining high quality affordable housing in the village."