New West Lothian Housing Partnership homes are a family affair
A new affordable West Lothian Housing Partnership (WLHP) housing development in Whitburn is a real family affair – with a son, mum and gran all moving into the same street.
The three generations have been housed in WLHP's new £11.5 million development in Whitburn where all 85 new homes for social rent have just been completed.
Dylan McNeil was the first to move in and, as the development progressed over the next five months, he was followed by his new neighbours, mum Shirley-Anne Heggie and grandmother Annie Cairns.
The homes have been built by Springfield Properties for West Lothian Housing Partnership, which is part of Wheatley Group.
Most of the homes were completed before lockdown in March when building work had to stop in line with government guidelines. Springfield, one of Scotland's leading private and affordable housebuilders, recently handed over the final eight homes at the development after returning on site in June.
The area was previously the site of an old food processing factory which was demolished ten years ago. Barracks View is a mix of 62 energy-efficient flats and 23 houses, with 19 of the properties amenity homes for people aged over 55.
Dylan said: "I saw the new homes being advertised by WLHP. I put in a note of interest and was delighted to get offered one. The flat is brilliant and is massive inside. When my mum came to visit she fell in love with it. She said to me I'd won a gold watch.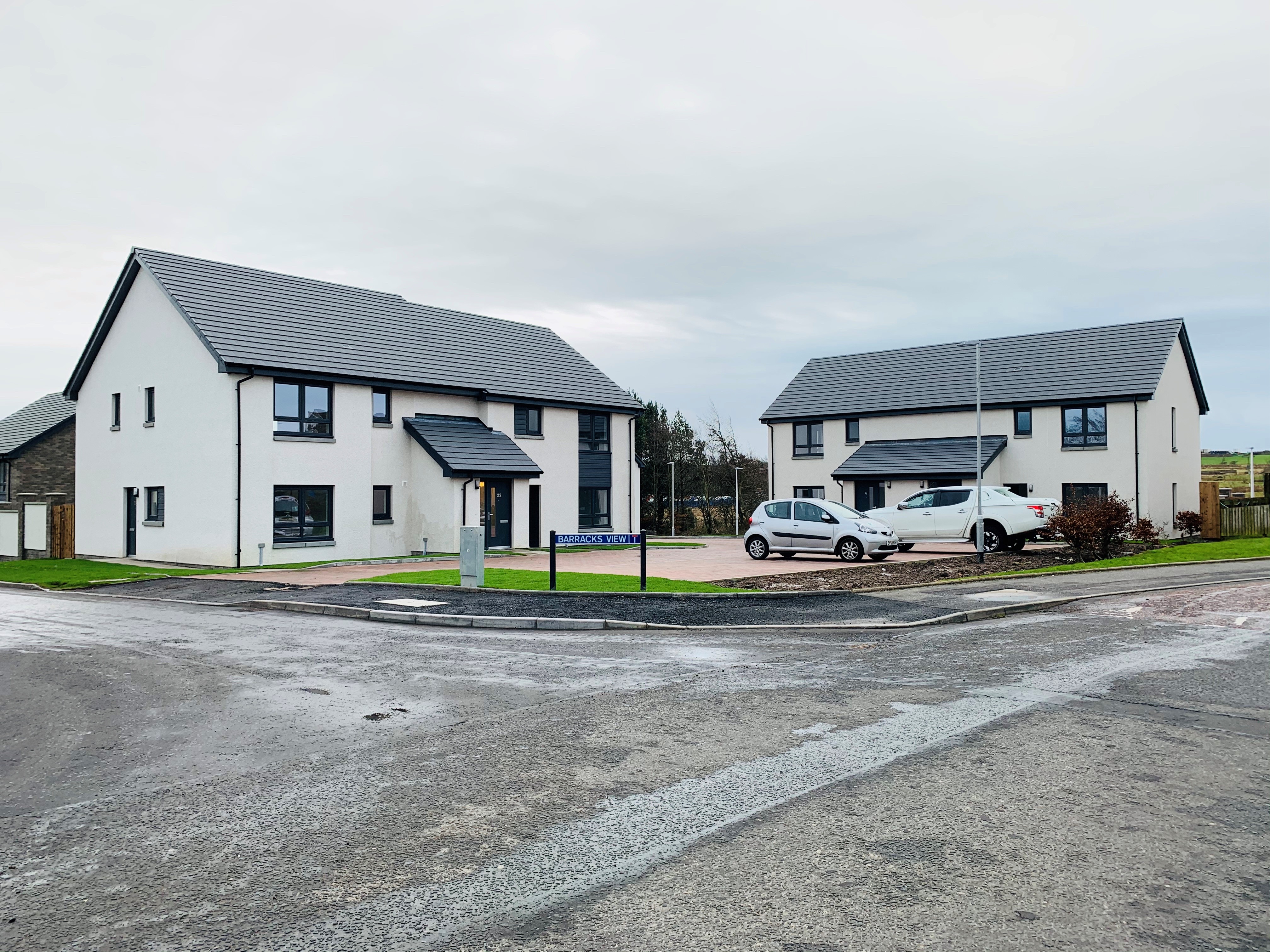 "Mum told me she'd love a house here as well. I spoke with my housing officer who helped mum apply – and she was also successful. She got her keys in January."
His gran also applied for a new home with WLHP and secured one at the Whitburn development in one of the later phases.
He added: "It's great to have your family so near. It means if I run out of teabags I can just knock on their doors."
Dylan, Shirley-Ann and Annie all live within 200 yards of each other – and pop in to see each other every day. All three were registered for a home with WLHP after having Housing Options interviews carried out with a housing officer and then being placed in priority groups based on their housing need. They then bid for homes which matched their needs as they became available and were advertised online.
Shirley-Anne said: "I wanted to be close to Dylan so we can take care of each other. I've loved moving here as it's a brand new home. The neighbours are also really friendly. Housing officer Marisa Fairbrother has also been great. She really cares and looks out for you."
Annie was the last of the family to move in and picked up her key in late January.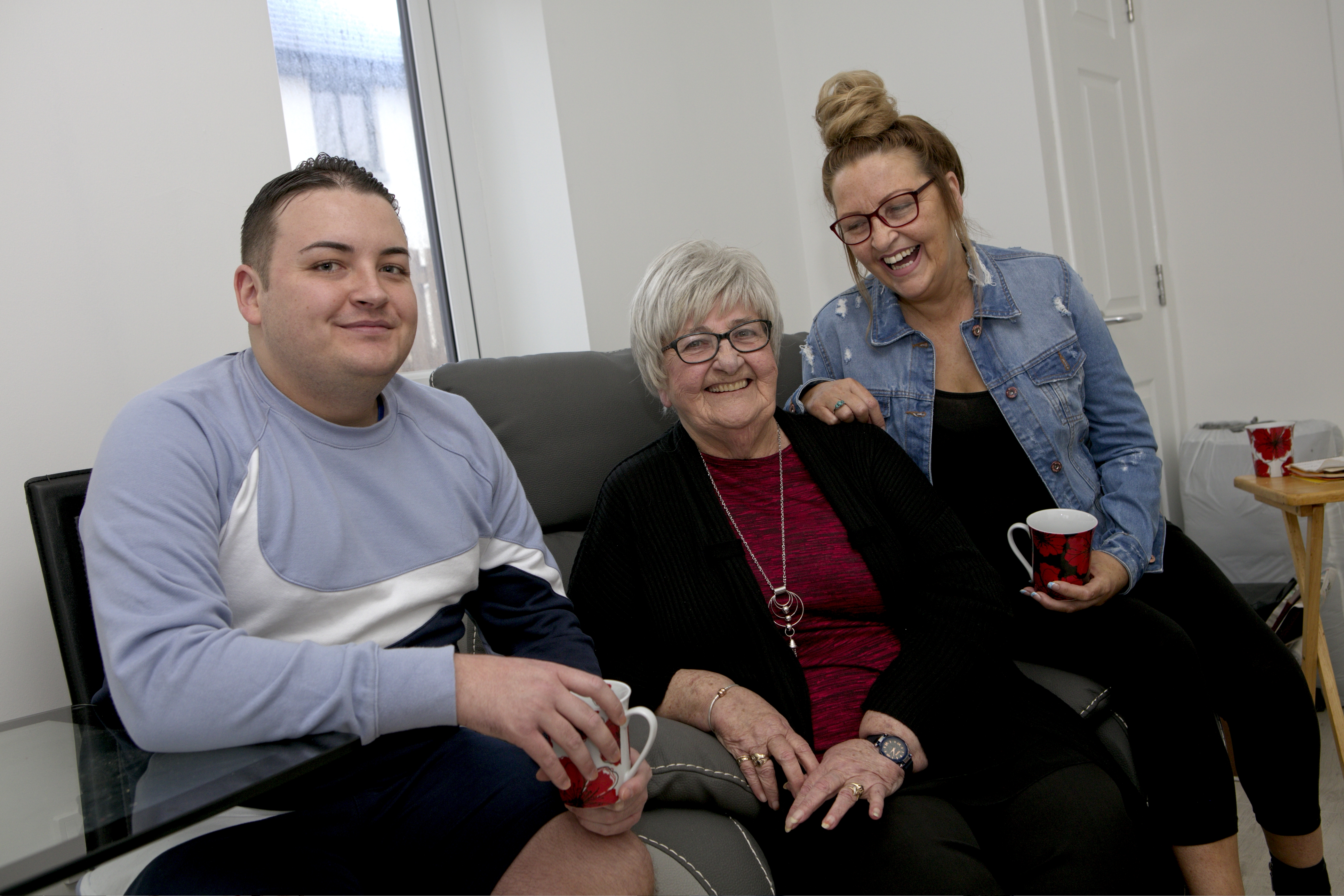 The Scottish Government provided a grant of £5.9m towards the development.
John M Hill, WLHP chair, commented: "We're delighted our development at Whitburn has now been completed and is home to families like Dylan and his mum and gran. At WLHP we're all about creating 'Better Homes, Better Lives' for people in our communities. We've already completed 55 new homes in Winchburgh and our exciting plans will soon see many more homes across our communities."
Lynsey Fotheringham, acting head of housing, said: "It is such an unusual circumstance to be able to house three family households in the one development however it is testament to our Housing Options approach in being able to identify and meet people's housing needs."
Tom Leggeat, Springfield managing director for affordable housing, added: "We're really pleased to have completed this site with West Lothian Housing Partnership. Together, we've transformed a derelict location and delivered great new homes for people who need them.
"The wide range of homes we've built are highly energy efficient which is better for the environment and keeps running costs low for the residents too.
"We continue to work with the Wheatley Group on projects across central Scotland, delivering much needed, high quality affordable homes."