NHBC boosts its alternative residential offer with two senior hires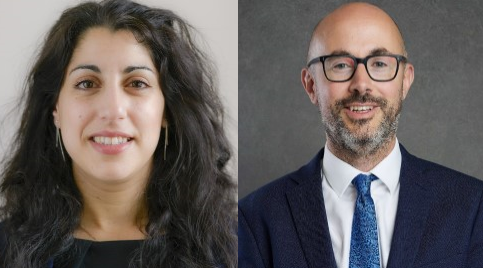 The National House Building Council (NHBC) has strengthened its alternative residential team with the appointment of Niki Kyriacou and Andrew Milsom.
Both join NHBC as customer relationship managers, Ms Kyriaco will lead on Build to Rent (BTR), while Mr Milsom will head-up integrated retirement communities and strategic land.
Ms Kyriaco joins from Property Week and benefits from almost 20 years' experience supporting property leaders to build effective strategic commercial campaigns, while Mr Milsom joins from The New Homes Group. His 14 years within the residential property industry comprises roles with Foxtons, Marsh & Parsons and Winkworth.
With more than 80 years' experience, NHBC is the preferred warranty and building control provider to the property industry. It supports customers across a range of sectors beyond volume house building, including Build to Rent, affordable and social housing, integrated retirement communities and strategic land. Its bespoke products form part of a unique partnership approach built on early-stage engagement to de-risk development and support the delivery of high-quality, long-term assets, bringing a strategic quality agenda to clients' development portfolios.
The two new hires will lead on expanding NHBC's partnerships within their respective sectors, setting its short to mid-term business strategy and contributing to the setting of NHBC policy.
Niki Kyriaco said: "NHBC is an incredibly well-respected business and I look forward to using my experience in strategic consultancy, alongside my network within the property sector, to continue to grow its Build to Rent offer. I have always found BTR particularly interesting; it's an industry that is growing incredibly quickly, with a huge amount of innovation taking place and new and exciting ideas taking root. I enjoy the energy of the sector and I look forward to supporting developers, investors and contractors as they bring new schemes forward, taking a partnership approach as they make their vision a reality."
Andrew Milsom added: "Alternative residential is a major strategic priority for NHBC as it expands market share in key sectors including integrated retirement communities. I will be focused on building on NHBC's growing customer base within the industry, supporting operators, developers and investors as they design and deliver high-quality new developments across the UK."
Tim Reid, customer relationship director and head of alternative residential at NHBC, commented: "Both Niki and Andrew will be a huge asset to the business as we continue to grow our presence across the BTR, integrated retirement communities and strategic land divisions. We anticipate working in partnership with our clients to de-risk development through early-stage engagement, supporting in the delivery of high-quality homes.
"They bring a huge amount of knowledge and expertise within their respective sectors and I am excited to have them on board."