North Glasgow community welcome an afternoon tea treat
ng homes has teamed up with Scottish Fire and Rescue Service (SFRS), Police Scotland and local community organisations to provide and deliver afternoon teas to elderly residents and those who are shielding in the North Glasgow community.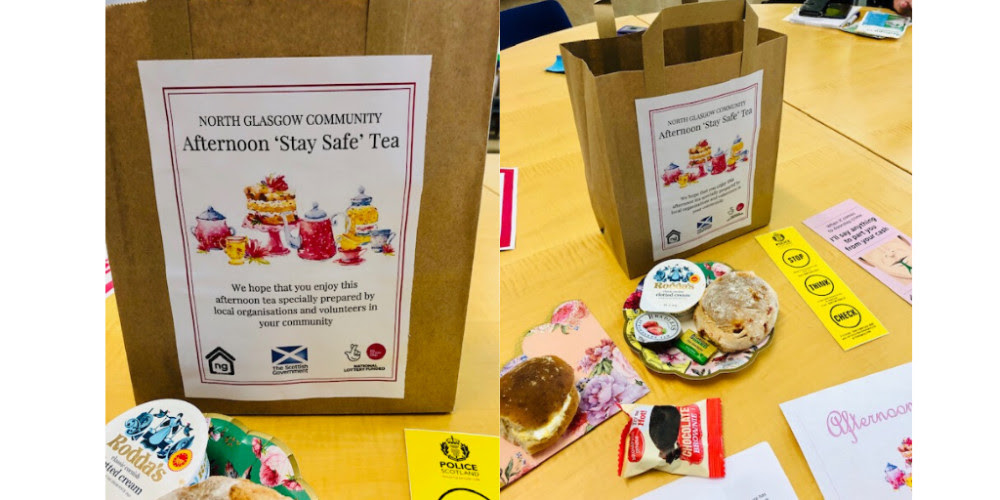 The afternoon tea initiative launched in early June with the support of Possobilities, a local community organisation based in Possilpark, with 125 afternoon teas delivered on the first day within 3 of ng homes' retirement complexes and to individuals in the wider community.
The initiative aims to reach around 600 people in the North Glasgow community in the coming weeks. ng homes will be working alongside Partick Thistle Charitable Trust and Progrez to provide these afternoon teas through their hot meal programme.
The afternoon tea goody bags were filled with rolls kindly provided by McGhee's Bakery, cakes, a delicious cherry scone provided by Lomond Foods with clotted cream and jam, along with some other treats. Vital safety flyers from SFRS and Police Scotland were also included, along with one of ng homes' recent articles which highlighted the work of local volunteers.
Karla Stevenson, fire officer at Scottish Fire and Rescue Service, said: "This is a fantastic initiative which will not only provide a lovely afternoon tea but it lets members of our community who are shielding or self-isolating know that the Scottish Fire and Rescue Service and our partners are still here for them. This pandemic has been challenging in so many ways and unfortunately, there has also been an increase in accidental house fires this year but initiatives like this will help us reach those who need us – we can provide free home fire safety advice and provide smoke alarms.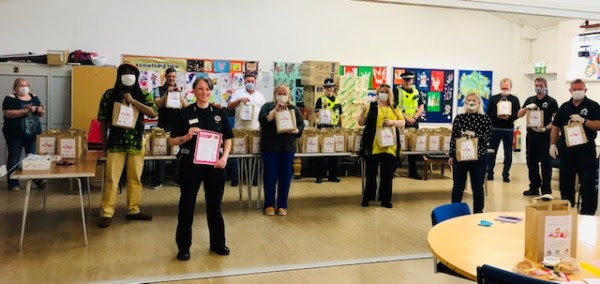 "If you know someone who is over 50, smokes and either lives alone or has mobility issues or uses medical oxygen then please make the call – call us on 0800 731333 or text 'fire' to 80800 to put them in touch with us."
Anne McLaughlin, MP for Glasgow North East who helped deliver to local residents, added: "People are doing their best, sticking to the rules that keep everyone safe, and life can be difficult. Locally, we are very organised in terms of food provision and moving our attention to emotional wellbeing. This lovely gesture combines the two – a wee treat that says 'we haven't forgotten you'. Many people have barely been out of their homes since March and we are aware of the huge psychological pressure this is putting on people. The community high tea all across the North of Glasgow is a lovely idea and I want to thank all the organisations involved."
Richard Porter MBE, vice chairperson of ng homes, said: "It's been a very challenging time for people who have been shielding now for over 10 weeks. The calls our staff are making to people are showing that they are missing human contact and this, in turn, increases a sense of loneliness and anxiety. Many had previously taken part in community activities that ng homes' regeneration team provided, such as the monthly Song Shimmy, Welcome to the Community and Community Afternoon Tea activities, so we thought that if we can't get them to an afternoon tea then we would take it to them."
In addition to the afternoon teas, ng homes is currently working with a variety of organisations and businesses to support community members with food parcels and other forms of support which has been made possible through existing funding from the Scottish Government and National Lottery.
Read all of our articles relating to COVID-19 here.