North Lanarkshire Council and Mears Scotland partnership creates opportunities for apprentices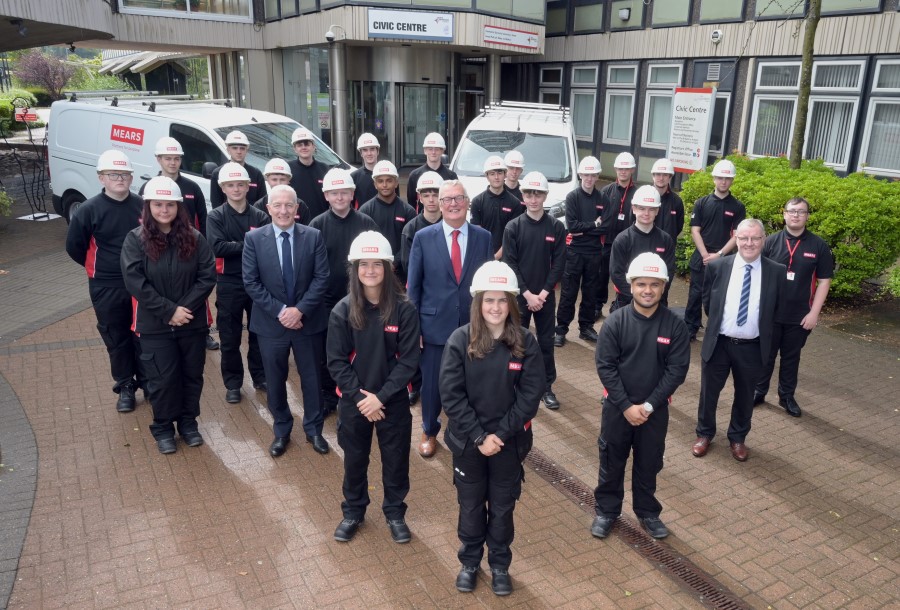 A partnership between North Lanarkshire Council and Mears Scotland is paving the way for twenty-six young individuals to embark on a journey towards becoming the workforce of the future through apprenticeships.
The apprentices will learn a range of trade and business skills under the guidance of Mears Scotland, the council's strategic housing and repairs partner. As part of their induction experience, the apprentices were welcomed to the civic centre by Councillor Jim Logue, leader of the council.
Councillor Logue said: "I was delighted to meet these enthusiastic apprentices and find out a bit more about them, and what they hope to achieve through this opportunity.
"As a council, we are committed to bolstering our local economy and creating employment avenues for our residents. Apprenticeships provide a springboard for young people to learn essential skills for their career journeys.
"Mears Scotland has a strong record of investing in apprenticeships and training. The apprentices will undergo training in various trades, including administration, joinery, plumbing and electrical work. Our partnership with Mears will ensure these individuals not only receive hands-on training, but also acquire the necessary educational qualifications to advance their careers.
"These young people will also play a vital role in bettering their own communities by contributing to the maintenance and repair of council homes and public facilities.
"I wish them all every success during their apprenticeships and I look forward to hearing how they develop their future careers."
Graham Paterson, managing director at Mears North Lanarkshire, commented: "Mears is delighted to be creating opportunities for young people in the local area and we are extremely pleased to have twenty-six new apprentices joining us. Apprenticeships offer a vital opportunity for young people to earn as they learn, whilst providing skills and competencies that will ensure apprentices have fulfilling and lasting careers.
"We are working hard to make our workforce reflective of the community we serve, so it is extremely heartening that our 2023 intake has been the most diverse ever."
The Strategic Housing Partnership and Non-Housing Repairs and Maintenance Contract between the council and Mears Scotland currently employ approximately 500 individuals throughout North Lanarkshire.