Parliamentary exhibition calls for warm homes for all
The Existing Homes Alliance Scotland (ExHAS) held an exhibition in Parliament this week to highlight the issues of energy efficiency and fuel poverty.
The exhibition, sponsored by Graham Simpson MSP, attracted interest from MSPs across all political groups with many pledging to support warm homes for everyone in Scotland.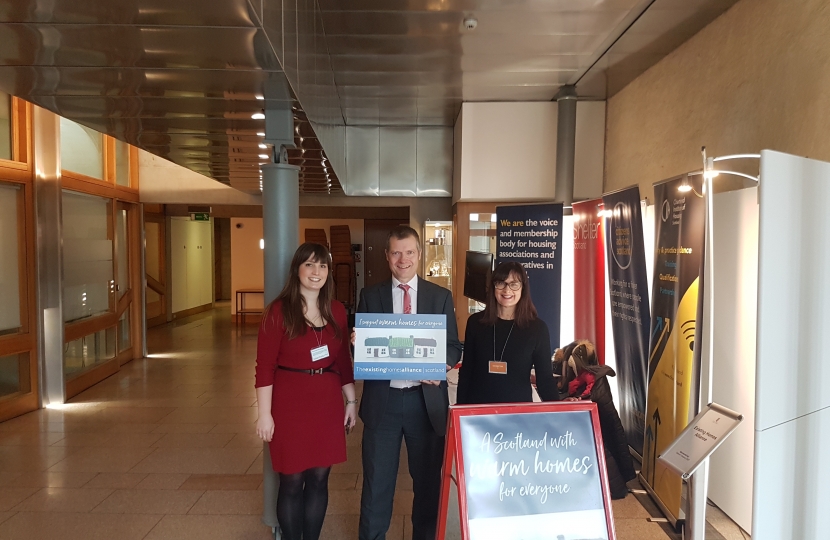 ExHAS is a coalition of housing, environmental, fuel poverty and industry organisations calling for action to improve the energy efficiency of homes to tackle fuel poverty and climate change. Despite significant investment and a statutory target to eradicate fuel poverty by 2016, around 25% of households in Scotland are still living in fuel poverty.
The Scottish Government has now introduced the Fuel Poverty (Target, Definition and Strategy) Bill which will create a new target for reducing fuel poverty. While welcoming this step, ExHAS has called for a more ambitious approach, for resources to be committed to reach the new target and greater accountability if key milestones are missed.
Lori McElroy, chair of ExHAS said: "Holding this exhibition in the Scottish Parliament gave us a great opportunity to talk to MSPs from all parties about the importance of energy efficiency and tackling fuel poverty. Improving the condition of our homes means that people are more able to afford to heat their homes properly which leads to better health and wellbeing and savings for our NHS. Investing in energy efficiency measures also creates jobs and will help to tackle climate change."
Graham Simpson MSP said: "As the Fuel Poverty Bill works its way through the Scottish Parliament, it is important for MSPs and staff to engage with the subject and understand the challenges faced by our current housing stock.
"I am proud to welcome the Existing Homes Alliance to the Scottish Parliament and highlight the work that needs to be done to bring our existing housing stock up to meet higher energy efficiency standards as well as the issues faced in building maintenance that compound problems such as fuel poverty."
Further information about ExHAS and its response to the Fuel Poverty Bill is available here.