Phil Wray: Working together to tackle rough sleeping
In the first in a Scottish Government series of guest blogs, Phil Wray provides an insight into the progress Glasgow City Mission has made this winter, helping more people into settled accommodation.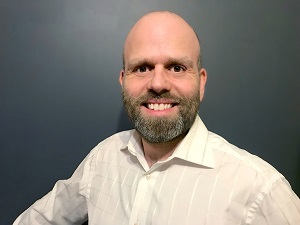 Most of us have had the heart-rending experience of walking through a city on a cold winter morning past a figure in a sleeping bag tucked into a doorway. None of us wants a Scotland where this happens. In 2010, Glasgow City Mission established the Glasgow Winter Night Shelter, because no one should need to sleep rough.
Positive destinations
We opened the night shelter for our ninth season on 1 December 2018, after months of preparation with partners who also tackle homelessness. We hoped that this winter might be different.
Of course, the primary aim of any night shelter is to get people off the streets into a warm dry bed, but we are seeking to achieve far more than this for our guests. Through inviting partners such as the NHS, Glasgow City Council Housing Officers, the Simon Community Street Team and others to come and work with us in the night shelter, we want to offer guests the additional help they need to get off the streets and into a home.
Although we are only partway through this winter, early results are looking positive. In December, we welcomed the same number of guests (around 200) as we did the previous December. However, the number of nights people stayed in December 2018 had fallen by 60% compared to the same period in 2017. Closer analysis shows that we have helped more guests than ever move on to positive destinations – more than 100 individuals during December.
Callum's story*
Callum arrives at the shelter looking dirty, carrying his backpack and tent. He has likely been sleeping in a park. He is given a warm welcome, a hot drink and is allocated a mattress and bedding. One of our staff sits down with him and asks him a beautiful question: "When was the last time you felt safe?"
Callum reminisces about a place he had years ago with Blue Triangle Housing Association where he felt welcomed and supported. The staff worker relays this information to the Council Housing Officer working with us at the night shelter, realising the chances of a bed being available with this particular provider were very slim. An hour later Callum is in a taxi, on his way to his own place with Blue Triangle.
This example illustrates the difference that a pro-active and collaborative approach can make. Charity workers, Council staff and housing providers all focussing on the same outcome – to find a positive destination for an individual.
Katrina's story*
Katrina is a vulnerable young woman with addiction issues and a cycle of rough-sleeping and temporary accommodation. A partner passes on information that she has recently overdosed and had to be given emergency first aid. So as our staff welcome her into the night shelter they keep a close eye on her.
Just before midnight, Katrina slips unconscious. Staff dial 999 and begin administering Naloxone (an opioid antidote that reverses the effects of an overdose). After the ambulance staff take her to hospital, it takes several more hours to stabilise Katrina. Our staff are under no illusion that their close care and attention of guests can be the difference between life and death.
Our hope is that one day there will be no further need for night shelters in our cities. We want anyone who becomes homeless to receive the immediate attention they require to get them somewhere safe and off the streets. Our experience is that when partners come together and go the extra mile for some of most vulnerable citizens, then we are one step closer to achieving this.
Ending Homelessness Together
The Scottish Government is working with third sector and local authority partners on a range of activities to safeguard people at risk of rough sleeping this winter and provide support for their longer term needs. This includes an investment of £393,700 on Winter Actions in 2018-19, from the £50 million Ending Homelessness Together Fund.
Read the Ending Homelessness Together Action Plan
Phil Wray is head of projects at Glasgow City Mission
*Names have been changed to protect identities.
This article was originally published on the Scottish Government website.