Plans progress to transform connectivity in Renfrewshire
CityFibre is rolling out its full-fibre network to homes and businesses in Renfrewshire as part of a £40 million investment.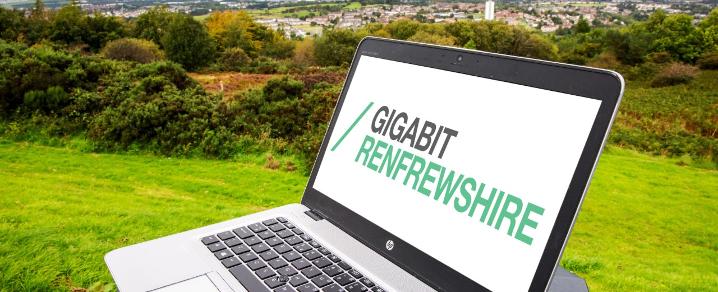 Full fibre brings the fastest, most reliable gigabit-speed connectivity and this 700km network will enable internet service providers to offer Renfrewshire customers broadband services among the best in Scotland and the UK.
CityFibre has commissioned PMK to build the network, with work already under way and the first homes and businesses are expected to be connected from early next year, while the full roll-out is scheduled to be completed by 2023. Residents can use this CityFibre checker to register their interest.
Renfrewshire Council said CityFibre was attracted to invest in the region after being impressed with the local authority's strategic approach. A 15-year framework with digital connectivity specialists Commsworld has been put in place which enables the council to meet its needs now and in the future.
In one of the first projects from the framework, the council is replacing the current Wide Area Network with a 130km full fibre network, enhancing connectivity at 180 council buildings including at nurseries, schools, local libraries, town halls, community centres and care homes.
Primary schools will benefit from 20-times faster connections, while secondary schools will enjoy uploads and downloads 50-times quicker than currently provided.
Improved connectivity at local libraries and public facilities will help to tackle digital exclusion, increases access to digital skills training and support employability opportunities.
Major business centres including the new Advanced Manufacturing Innovation District Scotland and Inchinnan Business Park will be able to access the new network, supporting improved productivity and helping to stimulate inward investment.
Greg Mesch, CEO at CityFibre, said: "The £40m investment we are making in the area is the result of years of close collaboration with Renfrewshire Council. Full Fibre connectivity will put the region at the forefront of the digital transformation we are driving across the country. As the world adapts to COVID-19, the importance of delivering world-leading digital infrastructure for residents and businesses could not be greater."
David Cannon, city manager for the rollout in Renfrewshire, added: "Renfrewshire is an extremely forward-looking and ambitious area, with the council integral to the development of its digital journey. We are at an exciting point as residents and businesses will soon be equipped with the digital infrastructure they require to underpin and supercharge current and future aspirations. Full Fibre broadband will help households access all the latest entertainment at lightning speed, but the benefits are far deeper than that - from enabling smart home technology to giving people the freedom to work from home with ease."
Iain Nicolson, Renfrewshire Council leader, said: "I am delighted to see work well underway on developing this state-of-the-art Full Fibre network which will make Renfrewshire one of the best-connected regions in Scotland and bring benefits to residents and businesses alike. The recent coronavirus pandemic has underlined how much we all need fast, reliable broadband connections and demand for better bandwidth continues to grow year on year so it's vitally important for our businesses, for our schools and for our residents that we have a resilient, future-proofed network to be proud of."