Public land bodies and estate leaders join forces to share land learnings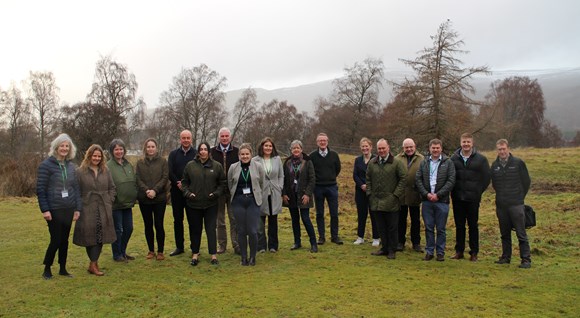 Land leaders have joined forces to complete a development programme to ensure Scotland's land is managed responsibly.
The Scottish Land Commission is working in partnership with Scottish Land and Estates (SLE) and Cairngorms National Park Authority as part of the Heritage Horizons: Cairngorms 2030 programme.
Representatives from 12 landholdings and rural businesses based across the Cairngorms National Park area gathered for a day-long 'Leadership in Good Practice' course led by professional advisers and stakeholders from the Scottish Land Commission, SLE and the Park Authority. The participants are dedicated to developing their leadership skills in land rights and responsibilities, showing engagement and transparency in their activities and with their local communities.
The rural businesses and land holdings represented included Atholl Estates, Ben Alder Estate, Dalhousie Estates, Dunecht Estates, Kinrara Estate, Tulchan Estate, and Wildland.
Emma Cooper, head of land rights and responsibilities at the Scottish Land Commission, said: "Professional development and peer-to-peer learning is fundamental for good practice to be maintained and improved.
"The Heritage Horizons programme has a key area of focus on empowering communities, putting local people at the heart of decision-making. Getting together like this will help drive forward improvements in transparency in how land is owned, used and managed, and improve engagement and collaboration with communities."
Sarah Madden, policy advisor (rural communities) at Scottish Land & Estates, added: "Those who look after estates in the Cairngorms are already at the forefront of tackling the climate and biodiversity crisis whilst providing significant employment opportunities, rural housing and leisure and tourism amenities. Having the opportunity to engage with stakeholders, to learn and to share best practice is very worthwhile and the initiative will hopefully encourage a dialogue between estates and government agencies where they can value each other's views and ensure the latest public policy and the realities of managing land management are brought together in a workable and cohesive way."
Colin McClean, head of land management at the Cairngorms National Park Authority, commented: "The event showed how much many estates are already doing to engage with local communities and to be transparent about their plans and activities. Through the Heritage Horizons: Cairngorms 2030 programme and its projects, we will continue to work with all partners involved over the next five years in developing leadership skills in good practice in responsible land ownership, management and use."
Deirdre Stewart, estate manager at Dalhousie Estates, said: "The forum allowed for open and frank discussion, and for the private landowning sector to explore with the Scottish Land Commission, Scottish Land and Estates, and the Cairngorms National Park Authority the nature and extent of existing community engagement, against a backdrop of overcoming challenges, barriers and misconception."