Record year for scheme helping Orkney homes to stay warm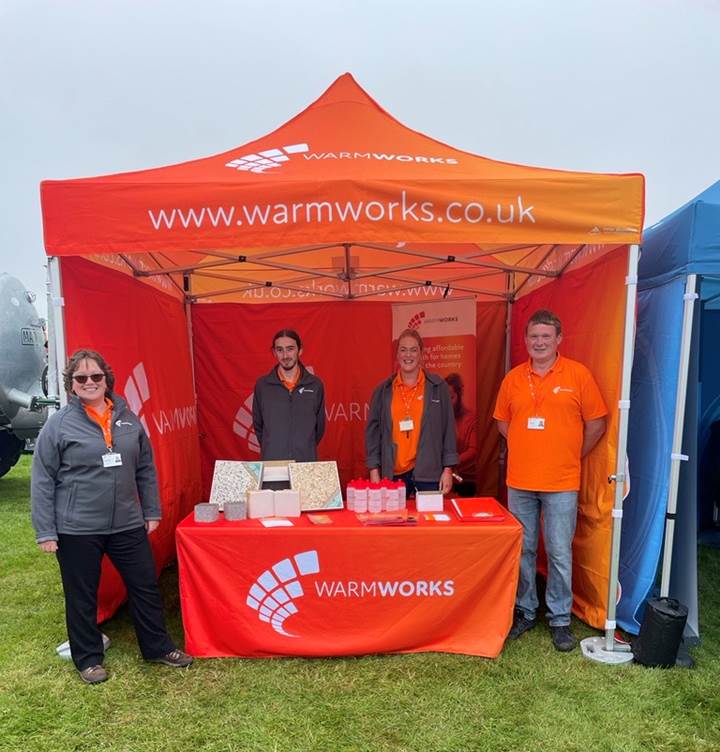 A new report published today illustrates a record level of activity over the past year for an initiative aimed at helping Orkney homes to be warmer and more energy efficient.
The Energy Efficient Scotland: Area-Based Scheme (EES:ABS) in Orkney, managed by the local Warmworks team in Kirkwall on behalf of Orkney Islands Council (OIC), has seen more than £1 million in grants claimed for the first time since the scheme began.
Through this funding, 161 heating and insulation measures have been installed in 119 Orkney homes over the past year.
The scheme aims to make homes warmer, more energy efficient and more affordable to heat, through the installation of energy-saving improvements. Support available can include internal wall and loft insulation, new and efficient storage heaters, and other measures tailored to the specific requirements of individual households. It also aims to develop the local supply chain of installation businesses, creating jobs and lasting benefits across Orkney.
The report revealed that customers who have received support from the Area-Based Scheme in 2021/22 have on average been able to save more than £400 per year against their energy bills thanks to the energy efficiency improvements installed.
It also highlighted that energy efficiency measures installed under the scheme this year have helped to save 108 tonnes of CO2. This is equivalent to taking 85 cars off the road, or the emissions from charging more than 48 million smartphones.
This year, a special project has also been delivered in partnership with Q-Bot. This has seen 18 Orkney homes benefit from robotically-applied underfloor insulation, which can be of particular benefit in homes where traditional underfloor insulation is not possible. Making Q-Bot available in Orkney has also allowed Warmworks to widen the suite of measures available to help homes in Orkney stay warm.
Ross Armstrong, Warmworks' chief executive, said: "The figures in this report point to a real desire among people in Orkney to improve the warmth and energy efficiency of their homes, with more than £1 million in grants being claimed for the first time since the scheme began.
"We're acutely aware of the pressures people are facing and their worries about rising energy bills. With that in mind, I'm pleased that Orkney Islands Council has secured £1.25m in funding from the Scottish Government for the scheme to continue in the year ahead.
"Our local team in Kirkwall is ready to continue our successful delivery to make sure that help is available to everyone in Orkney who could benefit from it".
Gwenda Shearer, chair of the council's Education, Leisure and Housing Committee, commented: "We're so pleased to see a record level of work carried out in Orkney last year under this scheme, particularly with the growing cost of living concerns we're seeing.
"We're also pleased that working closely with Warmworks we've secured funding to continue this vital work to help reduce the costs of heating homes in Orkney, including using Q-Bot to apply underfloor insulation in homes where conventional methods are tricky.
"With such a challenging winter climate here and high levels of fuel poverty, being able to offer this option as part of the mix has the potential to make inroads into hard-to-insulate homes - we hope to see many more people more comfortable in their homes and enjoying lower heating costs as a result.
"I would urge any homeowner, or tenant in the private rented sector, who wants to improve their home energy efficiency to join others in Orkney who have benefited and contact Warmworks for advice on the EES:ABS scheme and other support which may be available to them."
Mrs B from Stromness had electric storage heaters and robotically-applied underfloor insulation installed under the EES:ABS this year.
She added: "We are so pleased with the work that was carried out. Our heating and hot water system has been completely modernised and improved, which has made a massive difference to the comfort of our house. We previously had very old, inefficient storage heaters which did not provide enough heat and were expensive to run. We now have so much more control over how we heat our home, and we much prefer the look and design of the new, modern heaters. Heating our home this winter will be much less daunting."