Remarkable appoints new chair
Remarkable, formerly Investors in People Scotland, has announced the appointment of Charles Quinn as the new chair.
Charles has over 15 years' executive leadership experience at some of the world's most successful technology companies, including Dell, Hewlett-Packard and Microsoft. A highly respected international business leader, Charles has a solid track record of taking organisations to a dominant position within very competitive markets.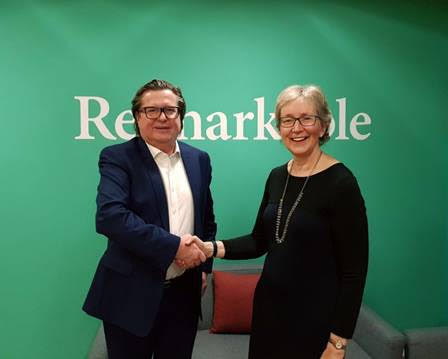 Customer-centric, Charles also has extensive experience in aligning organisations around a vision and setting clear plans and standards for success. He is currently a partner and director of 347 Consulting, providing IT and business services to companies in the UK and across the globe.
As chair of Remarkable, Charles will successfully guide strategic decision making. He will lead and support the effective operation of the Board and the CEO as we work to implement our five year vision of by 2023, helping 1 million people become leaders.
Charles said: "I am honoured and delighted to be appointed chair of Remarkable at this exciting stage in the organisation's journey. Throughout my career, leadership and people development have always been a priority and so my experience and passion in this area will be put to great use as chair of Remarkable.
"I very much look forward to building a close relationship with our stakeholders to ensure we are listening, understanding and addressing their leadership and organisation development needs. I also look forward to working with Remarkable's talented team who are committed to supporting organisations to get the best from their people."
Charles replaces Linda Urquhart OBE who steps down after 8 years. Linda has made an immense contribution to the organisation and to its growth and sustainability. Remarkable's Board and team sincerely thank Linda for her stewardship, insight and guidance over the years and wish her well for the future.
Linda said: "I am delighted to be handing over the Chair of Remarkable to Charles. Having been chair for the last eight years, I have witnessed the organisation grow, develop and expand its offering to support the ever-changing needs of organisations. This has included the launch of Investors in Young People in partnership with the Scottish Government, our rebrand to become Remarkable and the launch of Intent-Based Leadership alongside ongoing delivery of the globally recognised Investors in People accreditation. I am pleased to have such a worthy successor and I wish Charles all the very best as he steers the organisation through the new few years."
Bonnie Clarke, interim chief executive at Remarkable, said: "I am delighted to welcome Charles as the new chair of Remarkable. He joins us at a hugely exciting time for the organisation as we are diversifying our portfolio and extending the reach of our brand across the UK.
"With his impressive track record of steering and growing businesses, the team at Remarkable is very much looking forward to working with Charles over the next few years to consolidate and grow our business. I also offer my sincerest thanks to Linda. She has been an incredible chair, bringing unrivalled passion, insight, challenge and support. We wish her every success for the future."