Royston COVID Response Group leads the way in supporting the community
The strong and unwavering community spirit of Royston has moved to a whole new level since the coronavirus outbreak thanks to the work of local housing associations and other community organisations.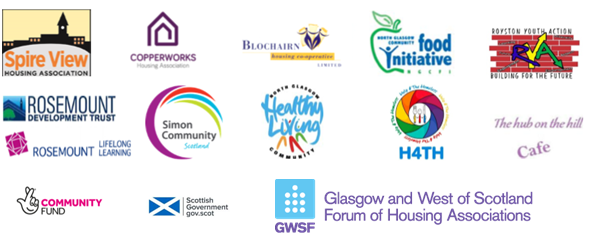 With lockdown looming in the middle of March, Spire View, Copperworks and Blochairn Housing Associations, along with Royston Youth Action, Rosemount Development Trust, Help 4 the Homeless, The Hub on the Hill Café, Rosemount Lifelong Learning, North Glasgow Community Food Initiative, North Glasgow Healthy Living Community and Councillor Allan Casey got together to formulate a plan of action. The aim was to ensure that every single resident who required support would receive it. This was the beginning of the Royston COVID Response Group.
The partners got to work quickly to put together a co-ordinated list of those people requiring support, as well as a list of volunteers. Meanwhile, Spire View Housing Association quickly prepared a funding bid for submission to The National Lottery. The end result was funding of £63,040 to allow delivery of food parcels and hot meals across the local community for a period of 16 weeks.
Since lockdown, over 1,000 food parcels and over 800 hot meals have been distributed. A further 30 food parcels are also received from the North Glasgow Community Food Initiative every week for onward distribution.
This 'hub' of activity takes place at the Roystonhill Community Hub, which Spire View and Copperworks have kept open throughout the COVID outbreak. Preparation and delivery of food parcels is co-ordinated by the housing associations' tenancy support officer Geraldine Burgess, supported by her colleague Tracey Blair and Copperworks' estate caretaker David Manners, along with a group of incredible volunteers. Hot meals are prepared by The Hub on the Hill Café chef Pauline Frati, who had only just launched her new business venture within the Roystonhill Community Hub a few weeks before lockdown.
Glasgow and West of Scotland Forum of Housing Associations supported the group to make an application to the Scottish Government which resulted in an additional £48,605 of funding being made available. This has allowed the group to retain the tenancy support officer / COVID response co-ordinator. This funding will also allow Royston Youth Action (RYA) to distribute over 250 packed lunches every week to local children, again in partnership with The Hub on the Hill Café. Furthermore, RYA will prepare and distribute activity packs to local children and elderly/vulnerable residents during the next 10-12 weeks.
Another member of the group, Rosemount Development Trust, secured over £20,000 Scottish Government Funding to support Royston Youth Action in other areas of work providing emergency support to local children and families in the form of mobile top-ups, food vouchers and wellbeing/care packs. RDT was also able to assist Rosemount Lifelong Learning with funds for family activity packs.
North Glasgow Healthy Living Community took the bull by the horns and secured funds from Glasgow City Council's Area Partnership to provide local people with a 'Saturday Night Fakeaway'. The pack includes ingredients and a recipe card for a healthy meal, along with fun and engaging activities for recipients.
As a result of a funding partnership with Good Things Foundation, Spire View was able, through DevicesDotNow, to acquire 10 brand new electronic tablet devices for distribution to people in the Royston community who were completely digitally disconnected. Recipients were provided with the devices and 24gb of data and are being supported by Spire View's digital engagement officer.
Special recognition has also been given to the incredible Mel from Help 4 the Homeless, a charity based at Spire View's former office premises in James Nisbet Street. Working tirelessly to support the group, Mel collects FareShare donations and provides vital food supplies for our food parcels and The Hub on the Hill Cafe. This is in addition to continuing to support countless other groups, individuals and food banks across the city.
Local councillor, Allan Casey, has been a fantastic support throughout; collecting food supplies, assisting partners at the hub, supporting funding applications and bringing in countless donations of much-needed items such as toiletries and soap.
The group has also been supported by local MP Anne McLaughlin who picks up and delivers food supplies every week in the big yellow van.
As well as this co-ordinated partnership response in the community all partners continue to engage with their service users. The RSL housing management teams are contacting elderly and vulnerable customers on a weekly basis to ensure they are supported and feel less isolated. Financial capability and money advice services continue to operate and are supporting those in need of their services at this very challenging time.
The group is delighted to work in partnership to provide this support to the community during these difficult times. The partners take great pride in the Royston community and are overwhelmed by the amount of support received from fellow partners, local businesses and volunteers, without them none of this would have been possible. A special thanks to Morrisons Auchinea, FareShare, Asda Robroyston, Rossvale FC, St. Roch's Junior FC, Glasgow Caring City, Glasgow Girls & Women FC, Failte Foods, North Curve Celtic, Lorna Finn, Mast Architects, Reid Associates and G3 Engineering Consultants.
Read all of our articles relating to COVID-19 here.