Scotland's Housing Network appoints Graeme Winning as new chair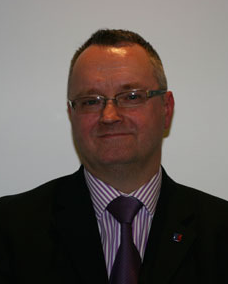 Scotland's Housing Network (SHN) has appointed Graeme Winning, East Ayrshire Council as chair of the board.
SHN is a membership organisation which supports social rented sector landlords to improve services by benchmarking cost and performance data, sharing knowledge and best practice through the development of self-assessment tools and other resources. The board of directors is a representative board, who are also trustees of the charity.
Mr Winning succeeds Bill Banks, Kingdom Housing Association, who has held the position of chair since 2018. During Mr Bank's time as chair, SHN has transformed itself into a truly member-led organisation, offering more services for members that have been developed in co-production with members.
Mr Banks hands over the chair as Scotland's Housing Network is about to launch a new member website and improved data services.
Bill Banks said: "I have really enjoyed my time as chair of SHN, it has been a pleasure to serve my time with board colleagues committed to delivering excellent services to members and I'd like to thank them for their support over the years. Graeme has a long history in social housing and is a well-established SHN Board member, I am confident that he will be an excellent chair."
Mr Winning takes over chair being no stranger to SHN's board having served as vice-chair and as a board member since 2016.
Graeme Winning added: "I have been using SHN's services, as a member, for all of my career in housing, and always valued the impact that they have on my day job. Being involved in the SHN board is a pleasure, a way to give back to SHN and the wider social housing sector. The board has a great mix of skills and experience, a balance of RSL and LA members. I am looking forward to continuing to support SHN in my role as chair."
Andrea Finkel-Gates, CEO, commented: "I am extremely grateful for the leadership and support that Bill has provided SHN over his time as chair, and to myself in my role. I am looking forward to continuing to work with Graeme as our new chair, we have a strong governance, and a board that is committed to continuous improvement and our member-led approach."
In other SHN board news, Morag Boyter, Peter Smith, John Wolstencroft, and Fin Smith stepped down at the AGM – after serving a collective 41 years. SHN has thanked them for all their support.
The board also welcomed Elizabeth Cutherbertson, Wheatley Group and David Cargill, Cairn Housing Association as new board members.