Scottish Government tops up Discretionary Housing Payments with extra £5m
An additional £5 million will be made available to local authorities through Discretionary Housing Payments to support tenants under severe financial pressure during the COVID-19 outbreak.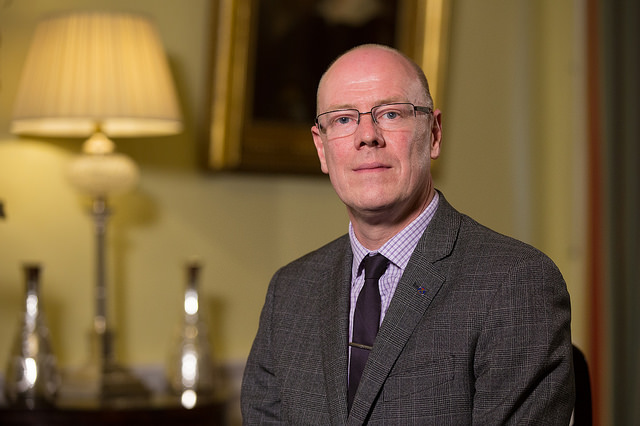 The extra funding was announced by housing minister Kevin Stewart during the Stage 3 debate of the emergency Coronavirus (2nd) (Scotland) Bill. This takes the total funding from the Scottish Government for DHPs to almost £16m – as well as £60m funding budgeted to mitigate the impact of the 'bedroom tax'.
Mr Stewart said: "We all know that the wider impacts of COVID-19 are increasing pressures on households and leading to greater financial hardship, including paying rent. Many more people will now be on benefits for the first time and be subject to the UK Government's benefit cap while others will have seen their household income decrease substantially and may be struggling to pay their rent.
"We have been looking closely at how to support people during the crisis and I am pleased to announce that we are increasing the amount we have made available for other DHPs - those that are available outside of our full mitigation of the bedroom tax - by a further £5m to almost £16m. This will support tenants who are now under severe financial pressures and where the UK welfare state is not providing the safety net it should."
The Scottish Federation of Housing Associations (SFHA) said it will be vital that the funds are used to support tenants in the social housing sector who are now struggling to pay their rent as a result of the coronavirus crisis.
Sally Thomas, SFHA chief executive, said: "We welcome the Scottish Government's announcement of an extra £5m for Discretionary Housing Payments.
"We know that many people are worried about the financial impact of the pandemic, and it is vital that there is support for costs, such as rent, to help tenants through the crisis.
"DHPs have traditionally been used to write off the 'bedroom tax', so we will await the full detail regarding how the extra funding can be used, but we would urge local authorities, which will administer the payments, to use them to support tenants who could struggle with the five-week wait for Universal Credit payment or other issues that are causing them difficulties in paying their rent as a direct result of the coronavirus crisis."
A provision has been passed within the Bill that sees the deadline within which Registered Social Landlords must provide their annual accounts to the Scottish Housing Regulator extended from six to nine months from the end of the landlord's financial year.
The Bill also gives powers to Scottish Ministers to temporarily intervene and manage care home services where there is a serious risk to the life, health or wellbeing of any person in that home for any reason connected with COVID-19.
The Bill includes an additional £19.2m investment in the Carer's Allowance Supplement, the introduction of notice to leave periods for students in purpose-built student accommodation, and additional protections for those facing bankruptcy.
There are also legislative changes in areas including non-domestic rates relief, proceeds of crime and the wider operation of Scotland's criminal justice system. The Bill also ensures that COVID-19 grant funding goes to those companies that pay their fair share of tax by excluding those who seek to minimise their tax arrangements to the detriment of the wider economy.
Constitution secretary Michael Russell said: "Scotland remains in an unprecedented situation. This legislation provides time-limited measures that will further strengthen our ability to prioritise work tackling the coronavirus pandemic, and support those in Scotland facing real hardship as a result.
"Whether it is taking action to safeguard the population's health such as the measures relating to care homes, helping people in debt or students with accommodation costs, we will continue to do all we can to help Scotland get through this most testing of times.
"In a spirit of cooperation and consensus we have worked across parliament and with all parties as much as possible as we take these important steps to tackle the impact of this ongoing crisis."
Read all of our articles relating to COVID-19 here.