Scottish Land & Estates strengthens management team with appointments and promotions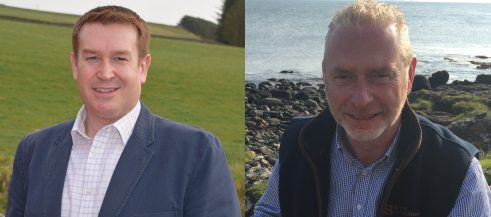 Scottish Land & Estates, which represents land-based businesses across Scotland, has today announced a significant strengthening of its senior management team as the organisation engages in an 'unprecedented' range of legislative issues.
Two new appointments have been made at executive director level with the promotions of Stephen Young to director of policy and Tony Stevenson to director of operations.
Mr Young will drive all areas of policy development and member advice, and Mr Stevenson will play a key role in all commercial aspects of the organisation. Both will support and report to Sarah-Jane Laing, chief executive officer.
Sarah-Jane Laing said: "Stephen and Tony are both highly experienced, outstanding members of our team and their skills, knowledge and approach are great assets at such an important time for the rural business sector in Scotland. Stephen is a widely respected figure in rural policy matters and anyone who has met Tony during his time with SLE will have seen his passion for rural Scotland and his commitment to supporting rural businesses.
"We are involved in dealing with an unprecedented range of issues and legislation which bring challenges but also opportunities for our members to demonstrate the very substantial social, economic and environmental contribution their businesses make to rural Scotland. We have exceptional talent within the SLE team and we are in a great place to provide sectoral leadership and support our members in all areas of their land based business activity."
Scottish Land & Estates is actively involved in preparations for a wide range of forthcoming Bills including Land Reform, Housing and Agriculture, as well as being part of a coalition of landlord and letting bodies seeking Judicial Review of the Scottish Government's rent control and eviction ban legislation.
Ms Laing added: "Over the last few years, including the pandemic, we have seen an upsurge in proposed regulation and legislation affecting our members and it is important that the interests of rural businesses and communities are represented as effectively as possible. That is why having the best possible people in the right roles is so important, and we plan to continue to strengthen and develop the SLE team."
Stephen Young said: "I'm delighted to be taking up this role at a time when land businesses in Scotland are facing a raft of changes that potentially will have significant ramifications for them, as well as offering new opportunities. Our policy team has never been busier and will spare no effort in trying to ensure that the positive role land businesses play is recognised."
Tony Stevenson said: "Members of SLE are to be found in every part of Scotland and they are extremely active in doing their bit on behalf of the rural sector. I'm relishing the prospect of working even closer with our membership to help our organsation be as effective as possible in future."
The appointment of Stephen Young and Tony Stevenson follows the recent appointments of Eleanor Kay as Senior Policy Adviser on agriculture and climate change and Jackie McCreery as SLE's new Legal Adviser.