Second Prevention Pathway for youth homelessness launched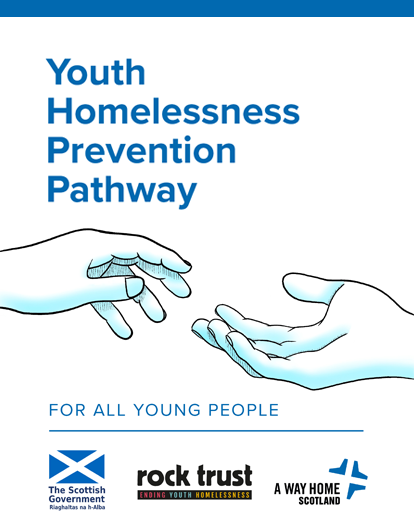 After the successful launch of the first Youth Homelessness Prevention Pathway for care leavers, the A Way Home Scotland coalition has developed a second youth homelessness prevention pathway for all young people at risk of or experiencing homelessness in Scotland.
In 2019, the Scottish Government's Homelessness Prevention and Strategy Group (HPSG) tasked A Way Home with developing youth homelessness prevention pathways for young people at risk or experiencing homelessness in Scotland. The first pathway launched was aimed at care leavers, a group particularly over-represented within the homelessness population in Scotland. The nationwide coalition has since been working on a more substantial Youth Homelessness Prevention Pathway aimed at all young people in Scotland.
Despite progressive legislation and strong leadership, young people aged 16-25 continue to be disproportionately represented in the population experiencing homelessness. The statistics for 2019-20, published by the Scottish Government, show that 8,319 people between the age of 16 and 25 presented as homeless, comprising nearly 26% of all homeless applications.
The Youth Homelessness Prevention Pathway for all young people sets out practical and achievable goals that are based on working in partnership across sectors, moving away from the idea that homelessness is a housing problem, and placing the experiences and needs of young people at the core of all activities.
The pathway was developed by the coalition's multi-agency working group and the youth steering group Aff the Streets and contains 16 recommendations and three calls for action. These actions aim to:
Create an implementation-plan working group with the Scottish Government to implement and monitor progress of the recommendations presented in this report.

Establish cross-departmental groups to identify processes, systems and services which need to be changed or adapted to meet the needs of young people.

Create local strategies and implementation plans to address youth homelessness, including population-based approaches, targeted interventions and systems change.
The Youth Homelessness Prevention Pathway for all young people will be officially launched today at a live webinar event hosted by A Way Home Scotland, with welcoming speeches from ministers Kevin Stewart and Maree Todd from the Scottish Government.
Kate Polson, CEO of Rock Trust, said: "Rock Trust have been working for almost 30 years with young people who are experiencing or at risk of homelessness to ensure that they have the support and resources they need to avoid, resolve and move on from homelessness. Working with our partners, in the A Way Home Scotland coalition in creating a Youth Homelessness Prevention Pathway and now to implement it in local authorities across the country may enable us to build the momentum required to end youth homelessness for good."
Tam Baillie, chair of A Way Home Scotland, said: "Whilst Scotland has made consistent efforts to tackle youth homelessness, it continues to blight the experiences of too many of our young people. This is not inevitable and there are measures we can take to reduce the incidence of homelessness. This report shows how it can be done. Youth homelessness is preventable with appropriate policies, sufficient resources and an unswerving belief that a good transition to adult life is an entitlement all of our young people have a right to expect."
Shea Moran, senior representative for Aff the Streets, said: "The pressures faced by young people in their lives are very different from those that adults experience and because of this, it is incredibly important that those young people have a say in how services are reshaped to best benefit them. Thanks to the involvement of the young people in Aff the Streets, we have been able to make sure that all of the recommendations in this pathway have been properly informed by the people whom they are going to be benefiting."
Housing mister Kevin Stewart said: "Preventing homelessness for young people is a key focus for the Scottish Government. We must make sure that support is available for everyone who needs it, including children and young people experiencing difficulties and challenges. This report and its recommendations are welcome and recognises that preventing youth homelessness is about more than providing a home. I look forward to working with relevant partners across the sectors to ensure that we meet the ambitions set out in this report to improve young people's housing outcomes.
"We understand that adverse experiences and trauma, including homelessness, can potentially impact on children and young people's long-term health and life outcomes. We recognise too that there are links to societal inequalities like poverty. This report really highlights the challenges that young people face and its important to recognise that we all have a responsibility to respond well. There is already a lot of really good work going on across Scotland to support young people who are experiencing adversity but more needs to be done, as outlined in the report. We all have a role to play in best meeting the needs of our young people."