Residents bemoan lack of social housing at Shawlands Arcade redevelopment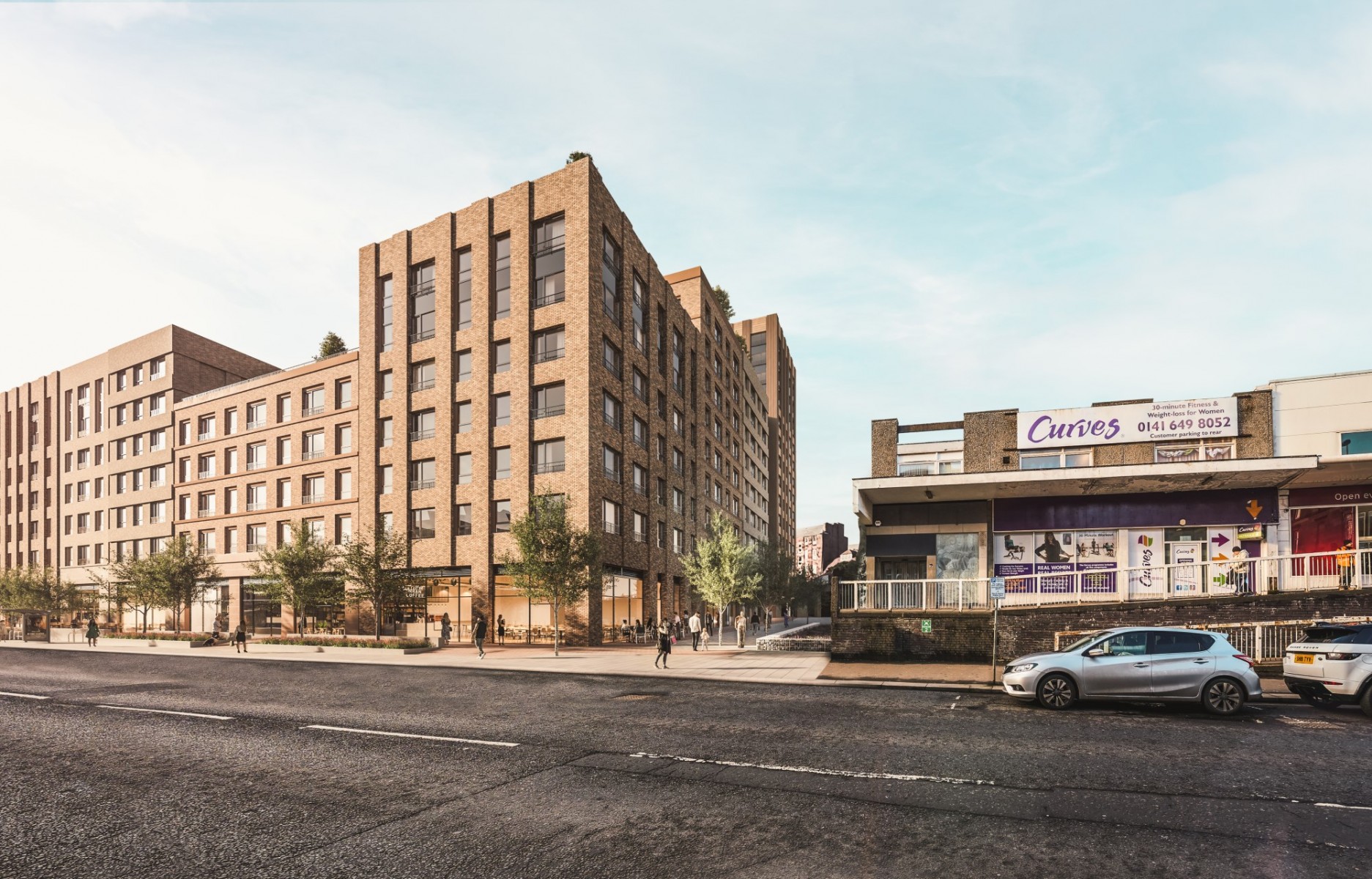 Living Rent members in Shawlands and Langside will host a public discussion today between Pollokshields councillors and concerned local residents who oppose the planned redevelopment of Shawlands Arcade.
The £150 million regeneration plan designed by Haus Collective will see the 1960s retail development on Kilmarnock Road swept aside in favour of hundreds of new homes above ground floor shops.
Under the new proposals, which were updated ahead of a community consultation in May, the first stage will have 330 one, two and three-bedroom build-to-rent apartments, ground floor shops and commercial space, and communal landscaped roof gardens and terraces. Work on a second phase of a further 300 homes is scheduled to start in 2026.
However, given there is currently no provision for social housing or affordable homes at the site, fears have been stoked of gentrification and of people priced out in a community already hard hit by the cost of living crisis.
Living Rent said the fate of local businesses currently occupying the Arcade is also unclear, with those affected reporting they have not been guaranteed a site in the redeveloped location. Additionally, the planning group has remained vague about what public amenities or community-owned space the redevelopment will offer the area.
The Shawlands and Langside branch of Living Rent has been campaigning for commitments from the developers of the Arcade since 2021. They are calling for the redevelopment to include at least 25% social housing, and to include some community space that is accessible to local residents. They say that they have seen strong support for their demands amongst local residents.
They are also calling on Glasgow City Council to legislate to ensure that all developments include some form of social housing.
During the 2022 local authority elections, Living Rent reached out to council candidates with their demands, receiving endorsements from the elected Jon Molyneux (Greens); Zen Ghani (SNP); Norman Macleod (SNP) who have since agreed to an open public meeting hosted by Living Rent Shawlands/Langside, intended to give a voice to the community affected by the plans.
Living Rent points out that the ongoing Glasgow housing and cost of living crisis that have seen Glasgow rents increase by 14% on average, have only made it more urgent to question a planned redevelopment that includes no affordable housing and which risks contributing to rising rents and gentrification in the area.
Clare Scott, Living Rent member, said: "The proposals for luxury flats are wrong given the housing crisis here in Glasgow. Many people I know are struggling to find affordable places to live. The community does not need luxury flats! It is incomprehensible that there is such a focus on creating these luxury developments whilst so many people are unable to find affordable homes."
Bianca, Shawlands and Langside branch chair, added: "On top of the rental crisis and cost of living crisis, hundreds of luxury flats in Shawlands will put a strain on local services and raise already soaring rents in the area. Shawlands needs more social housing, not developments that will see an influx of wealthy professionals and ultimately force working-class people out of their community. Living Rent is bringing local residents and our Councillors together, to call for a redevelopment that serves the needs of the community and not the pockets of developers."
Living Rent is calling for members of the public who oppose the redevelopment in its current form to come to their event today at 6.30pm at Queen's Park Govanhill Parish Church, 170 Queens Drive Glasgow.