Social Bite receives £2,100 from iconic Glasgow baths
Social Bite and the ongoing drive to defeat homelessness received a financial boost this week from Glasgow's iconic Western Baths.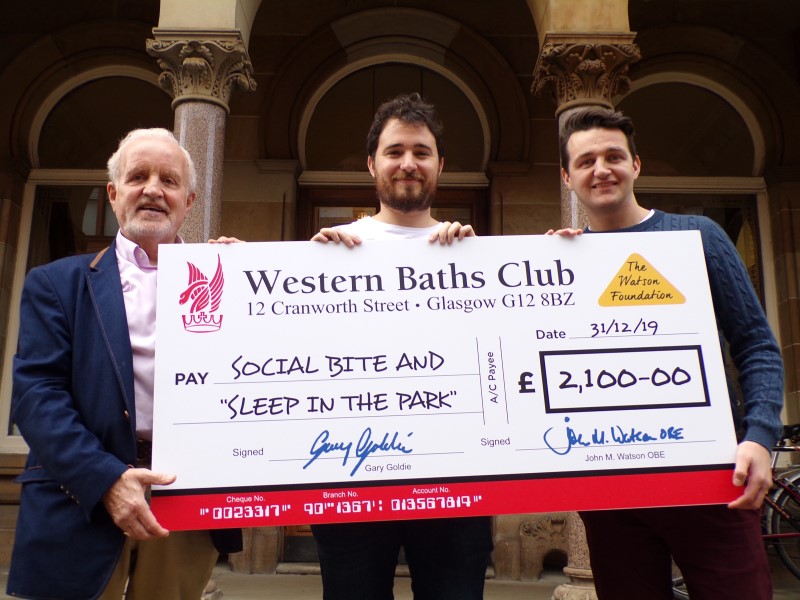 Members at the Western Baths in Hillhead donated over £1,000 when personal trainer Gary Goldie slept out at December's event in Edinburgh along with tens of thousands of others around the world.
Mr Goldie's fundraising was generously topped up by baths member John Watson OBE, a long-standing patron of Social Bite's work, taking the total to £2,100. And who better to receive the cheque than Social Bite co-founder Josh Littlejohn MBE on a visit to the baths which have been in the same West End location since 1876.
December's global event was a massive success and turned the spotlight once again on the fight to end homelessness - raising many millions of pounds.
Gary Goldie said: "I am personally very grateful for the generous donations from baths members and of course to John Watson OBE for doubling the amount to £2,100."
Mr Littlejohn MBE added: "This is a superb donation from the kind-hearted members of the Western Baths who supported Gary in his sleep-out. We are immensely grateful to everyone who donated."
John Watson OBE, who set up The Watson Foundation which made the top up, said: "Josh Littlejohn MBE is an inspirational leader in the ongoing fight to defeat homelessness. December's World's Big Sleep Out was an idea nurtured in Scotland which now has a global impact.
"The Watson Foundation continues to support Social Bite as we have done for many years and commend Gary Goldie and the members of the Western Baths for their generous support."