Stirling Council secures over £2m for vulnerable clients amid cost of living crisis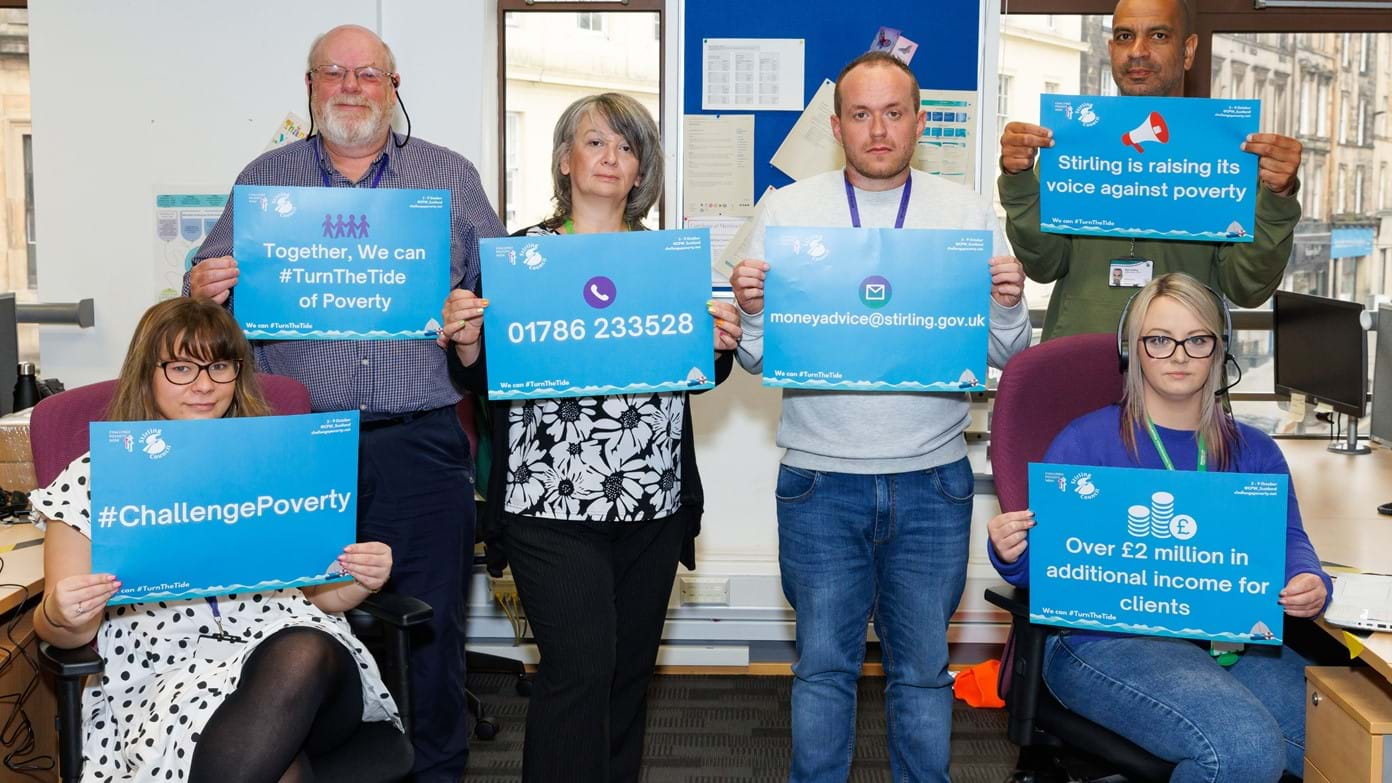 Stirling Council's Advice Services & Welfare Reform Team has secured more than £2 million in additional income for 950 people since April this year as the cost of living crisis deepens in communities.
The figure, which works out at an average of £2,105 per client, was revealed as Stirling and its community partners announced their participation in Challenge Poverty Week (3-9 Oct).
Organised by the Poverty Alliance, the annual campaign aims to highlight the reality of poverty, challenge the stereotypes and showcase the solutions to poverty.
A number of events, activities and workshops will take place in Stirling throughout the week covering a wide array of topics, including financial abuse, financial security, climate funding skills, child poverty, and the impact of the cost of living crisis on people with a disability and unpaid carers.
The campaign kicked off on Monday at Stirling Bus Station where the council's Advice Services, Libraries, Young Scot National Entitlement Card, Stirlingshire Voluntary Enterprise and Social Security Scotland staffed information stalls.
The council's Advice Service and Welfare Reform Team provide free, independent money, debt and welfare benefits advice.
Convener of Stirling Council's community planning and regeneration committee, Councillor Gerry McGarvey, said: "Our Advice Services and Welfare Reform Team help to challenge poverty all year round by securing money for people across Stirling who are struggling financially. Their work is all the more important at this time given how families are feeling the squeeze during the cost of living crisis.
"To have secured over £2 million for new clients since April is an outstanding effort and shows that help and support is here for people during these challenging times.
"The achievements of the Team is an example of the work that takes place day-in day-out by a variety of groups and organisations across Stirling to tackle poverty – but we know we must do more."
"Challenge Poverty Week is an opportunity for us all to come together to reaffirm our commitment to address this national issue and highlight the supports in place for people."
He added: "Supporting this vital campaign is also statement of intent that the council and its community planning partners will continue do all they can to support people struggling financially with things like food bills and energy costs.
"We are proud to support Challenge Poverty Week and by working together and raising our voice - we can turn the tide of poverty."