The Princess Royal unveils historic library's transformation into new homes
A new chapter has started for Coatbridge's historic Carnegie Library after a £2.5 million transformation into 12 social housing flats.
The project to bring the former derelict building back into use again was driven by Clyde Valley Housing Association and was officially unveiled by The Princess Royal, on March 6.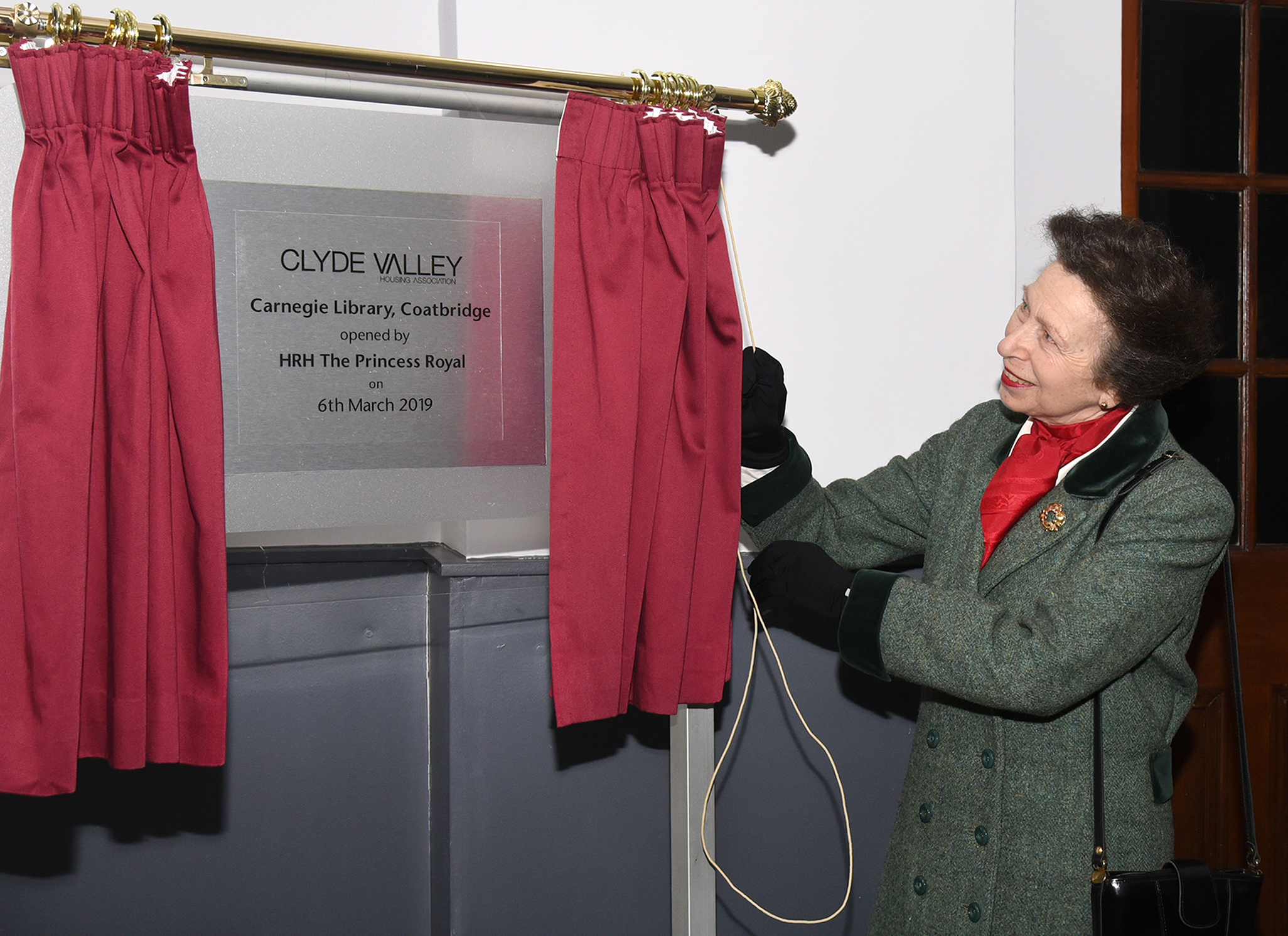 The library, which opened in 1905 thanks to a £15,000 donation by Andrew Carnegie, has lain empty since 2010. After various feasibility studies North Lanarkshire Council decided conversion to social housing was the only viable option to secure the building's future, and it was transferred over to Clyde Valley.
The Association manages 4,000 homes across North and South Lanarkshire and East Dunbartonshire.
Chairperson Allan Murray said: "This category B listed building occupies a prominent place within the centre of Coatbridge and I'm delighted we have been able to work with partners to bring it back into productive use and provide some much needed social housing in this part of the town.
"The library is an important part of the architectural, social and cultural heritage of Coatbridge and helping to preserve it while adding to the number of high quality homes for rent in the town is a great result."
The project is part of Clyde Valley's commitment to build 700 new homes in the North and South Lanarkshire and East Dunbartonshire by 2021.
Funding for the redevelopment was provided by Clyde Valley, Scottish Government, North Lanarkshire Council and Historic Environment Scotland.
Work to complete the transformation has included the demolition of part of the rear of the building and new landscaping, the addition of new access decks, stair towers and floors to accommodate the new flats.
Convener of communities and housing, Councillor Heather McVey, said: "Retaining the historic character of the Carnegie Library building, while ensuring the proposed development was viable for the future, was key to the success of this award winning project. Our planning service worked closely with CVHA to approach the redevelopment in a sensitive way while retaining its heritage and an important Coatbridge landmark, and I'm delighted that together we've been successful in achieving that.
"It's great to welcome the Princess Royal, HRH Princess Anne, to Coatbridge to see the finished homes for herself and to look around this fabulous development. This town centre development is an excellent example of how we're working with our partners to provide affordable homes and supporting the revitalisation of our town centres."
The project won a Scottish Award for Quality in Planning last year for architectural innovation. The contractor for the redevelopment was Project Management Construction with the design by MAST Architects. All 12 properties have now been let to new tenants.