Thenue Housing begins work on homes in Glasgow's East End
Thenue Housing has begun work on building more homes for Glasgow's East End just weeks after launching its most recent development.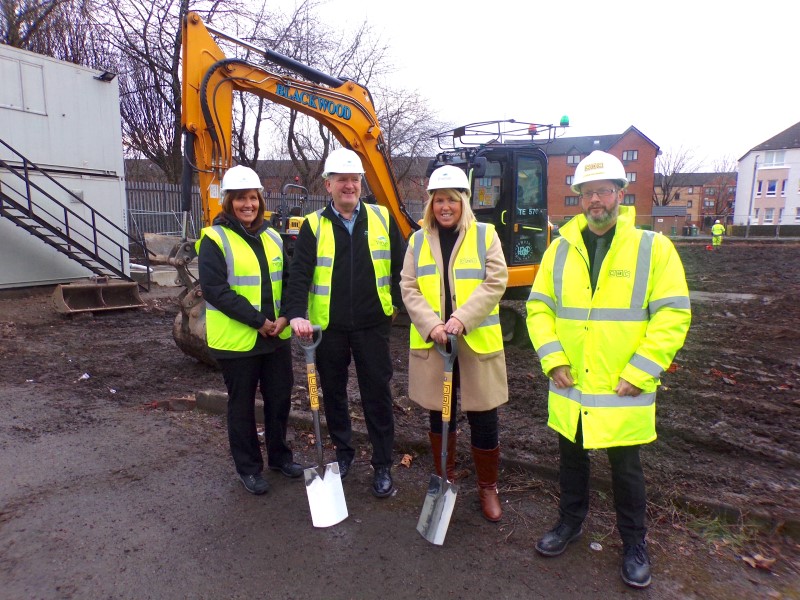 A total of 27 flats are being built at Landressy Place, Bridgeton on the site of a former care home.
The £4.18 million development is due for completion towards the end of next year and will be for tenants requiring Thenue's retirement housing service.
The work is being carried out by contractor CBC.
Thenue's vice-chair Pauline Casey and chief executive Charles Turner got the work underway assisted by John Callander, CBC's business development manager and Karen Finlayson, Thenue's property services manager (development).
Ms Casey said: "We are delighted to get this work under way to deliver 27 new flats which will be greatly welcomed by the Bridgeton community."
The total cost of the project is £4,180,442 with grant funding of £2.6 million from Glasgow City Council and the Scottish Government.
Charles Turner added: "This is another important development for Thenue as we deliver on our promise to create excellent housing in the communities we serve. We acknowledge the involvement of Glasgow City Council and the Scottish Government in making these new homes a reality."
John Callander said: "CBC are thrilled to have secured a further residential development contract with Thenue - one of Scotland's leading housing associations. The project further develops CBC's relationship with Thenue after previously delivering a major flatted development in Calton which also includes the association's offices."
Both Thenue and CBC said they were pleased to be working together once again. Their last collaboration to build housing and Thenue's offices won the Chartered Institute of Housing Scotland social housing development of the year.
Last month Thenue launched its £9.3 million "Monteith development" of 49 new homes which involved the restoration of the iconic 19th century Monteith Hotel overlooking Glasgow Green together with a new build.
Designers and consultants on the Landressy Place project are John Gilbert Architects, G3 Engineers, Hawthorne Boyle and Ailsa Project Management.