Thousands call for emergency protections for tenants during pandemic
A petition calling on the Scottish Government to take emergency measures to protect tenants from coronavirus has attracted thousands of signatures.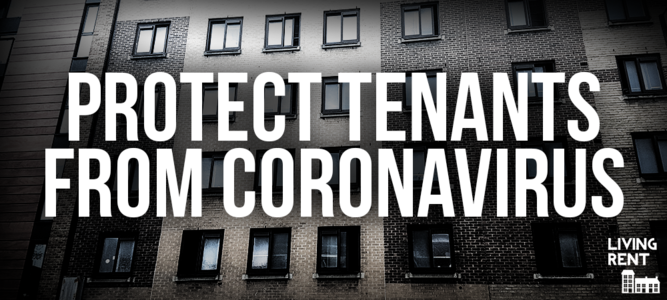 Launched by tenants' union Living Rent, the petition calls for a temporary ban on all evictions and for tenants affected by the virus to be granted 'rent holidays'.
The petition argues that, for tenants, the coronavirus pandemic is not just a health concern, but a financial one too. The union say that many tenants are in the kind of precarious, low-paid work where taking time off to self-isolate is near impossible, and that "tenants need to know that they won't face destitution for doing the responsible thing".
The petition follows similar measures announced by the chancellor earlier this week for homeowners. In a number of cities, such as New York, emergency bills have suspended all eviction proceedings.
Living Rent is urging the Scottish Government to guarantee those protections for renters in Scotland now too.
Emma Saunders from Living Rent said: "Up and down Scotland, tenants are facing not just a major health crisis, but the prospect of destitution and homelessness too. As their workplaces begin to shut their doors, it is hard to see how tenants who are already struggling to make ends meet will be able to pay their rent.
"It is unconscionable that anyone should even have to worry about being evicted from their home at this time. The Scottish Government urgently needs to take drastic action to protect tenants at this time."